Affordable Professional Travertine Cleaning Services in Sydney
As one of the valued companies in Sydney, the team at Tims Tile and Grout Cleaning Sydney is committed to delivering highly effective services. Our travertine cleaning services cater to a variety of travertine tiles found in areas such as living rooms, dining halls, and kitchens. Despite their durability, travertine tiles require proper care and maintenance to preserve their appearance. While they may not exhibit an immediate need for cleaning, it is essential to ensure their longevity.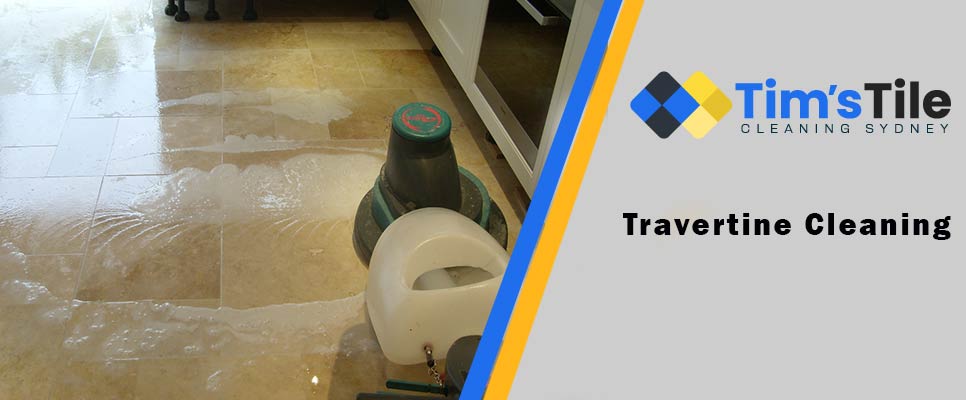 To assure your travertine tiles show long-lasting beauty, we provide excellent travertine cleaning Sydney methods on time. With years of experience on our side, we make travertine surfaces smooth by handling the correct tools and equipment. As we have seen through several travertine tiles, we know what kind of cleaning method is needed for a specific condition. Moreover, we believe in prompt services and offer the same for Sydney locals. For an obligation-free quote, call us at 02 8319 1071.
Advanced and Secure Travertine Cleaning Services Delivered by Experts in Sydney
Well-versed in modern travertine cleaning Sydney methods, we know everything from intensive and deep cleaning to light cleaning. We have special skills in cleaning travertine tiles along the grout lines and changing them to new from old ones. In fact, we assure you that we serve the safest travertine cleaning services in and around Sydney. This is because we dedicated ourselves to making use of only chemical-free and harmless solutions.
In fact, we are a qualified travertine cleaning Sydney team of cleaners that have a specialised licence in providing safe cleaning programs. Not just are we certified to perform cleaning procedures for travertine tiles but the solutions we use are state-wise approved. So, if you want effective travertine cleaning services that are safe and within your budget, look for our Sydney cleaners. We are waiting to help you out with travertine cleaning services!
We Are Active 24 by 7 For Commercial Travertine Cleaning Services
In addition to residential travertine cleaning Sydney deals, we are committed to offering commercial services too at all times. Commercial places where we show our skills in cleaning travertine tiles are shopping centres, warehouses, factories, hotels, medical centres and more. We welcome people from all commercial premises to be our clients for travertine cleaning services at budget-friendly prices. Also, like residential services, we dispatch local experts for commercial premises.
Despite the distance we travel to provide travertine cleaning Sydney services, we reach the location on time with zero delays. Even with this, our service quality will never be compromised anywhere to any client. Moreover, our experts who specialise in providing commercial travertine cleaning services work directly for our firm and we do not outsource cleaners. We are versatile travertine cleaning professionals that have innovative and unique commercial cleaning methods.
We Also Provide Services in The Below Suburbs:
Reviews
Looks Good The Tiles Smell Super Fresh & Clean Now
★★★★★
"
Tile cleaners did a great job! A++ work and value he cleaned roughly 2,000 sq feet of tiled floor, everything looks brand new! He got out marker stains made by the kids and puppy stains, not only looks good the tiles smell super fresh & clean now. Appreciate the work this Tile and grout Cleaning Sydney team did today and has become our go-to company for future work.
"
"
The experts from this tile and grout cleaning Sydney company I hired did an amazing job in cleaning my tiles and getting rid of all the stains that were on them. No more bad smells. I will be telling everyone I know about this service. Highly recommended!
"
My Floor Looks New, Especially The Grout
★★★★★
"
The professional did a great job! He explained the process for my tile and grout cleaning. My floor looks new, especially the grout. The cleaner was friendly and communicated well with my family and me. Also answered all of my questions about what procedure he will follow and how long it would take. I would definitely recommend this tile and grout cleaning Sydney service!
"
Amazing Service With Exceptional Professionalism
★★★★★
"
The expert from this tile and grout cleaning Sydney team was outstanding! He provided amazing service with exceptional professionalism. Also elaborated on the actual problem with our grout and tile. The cleaner arrived on time and finished the job within the time the company promised. I will call them again in the future and highly recommend this service!
"
The Team Was Excellent To Work With
★★★★★
"
This tile and grout cleaning Sydney team were excellent to work with. They explained everything they were going to do and pricing before they started. Our flooring looks great now! Also provided beneficial instructions on how to better care for my floors and what cleaners to use moving forward. Would use it again and recommend it to others.
"

Tims Tile Cleaning Sydney
Location: 157 King St, Sydney, NSW 2000 Australia