High-Quality Hard Surface Cleaning Solutions Provided by Sydney Experts
Are the weary and fatigued hands of your interiors yearning for revitalization, desperately craving the resumption of the esteemed hard surface cleansing services in the illustrious realm of Sydney? Fear not, for an era of despair has dissipated into the ether. Behold, Tims Tile Cleaning Sydney, an eminent purveyor of an extensive assortment of unparalleled, bespoke marvels, meticulously crafted through the utilization of enchanting elixirs and meticulously designed protocols, all meticulously orchestrated to breathe new life into the calloused countenance of your precious tiles' rigid visage.
Enveloped within the nurturing embrace of our esteemed surface artisans, situated amidst the vibrant tapestry of Sydney, your esteemed tiles shall ascend to a celestial plane of flawlessness, liberated from the insidious clutches of detritus that conspire to burden their stoic surfaces. Indeed, we pledge not merely to uphold the sacred tenets of contemporaneous innovation, but to forge an indomitable alliance with the zeitgeist itself, deftly rejuvenating your hallowed tiles, endowing them with resplendent luminosity and a chromatic grandeur that augments the resplendence of your treasured abode.
Coming to customer support and their assistance for hard surface cleaning Sydney service, we are available 24/7 hours from Monday to Sunday. In fact, for customer support and to take appointments for hard surface cleaning, we are available 365 days a year. With unparalleled knowledge about the industry, we do hard surface cleaning services for all kinds of Sydney tiles. Some of the tiles we clean are marble, slate, ceramic, terracotta, granite, porcelain, natural stone and quartz. So, take our help by contacting 02 8319 1071for hard surface cleaning!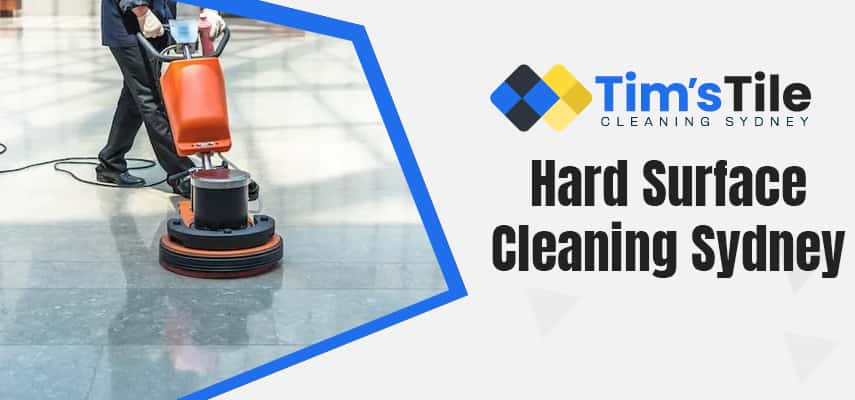 We Clean Hard Surfaces At All Premises In Sydney
Our hard surface cleaning Sydney services are available for premises of residential as well as commercial and all you have to do is to book us. We impartially avail our services at fair and reasonable prices for both the premises when they come knocking on our doors. Some of our numerous clients from Sydney belong to the below-listed premises:
Residential societies and private homes
Commercial premises
Shops and malls
Eateries, restaurants and hotels
Manufacturing industries
Kids healthcare centres
Hospitals and clinics
Schools, colleges and all academic institutions.
Why Choose Us as Your Preferred Hard Surface Cleaning Service in Sydney?
As no business is the same, the same goes for "no two hard surfaces of tiles require the same attention" and hence we act accordingly. Despite having loads of bookings in line from our clients belonging to Sydney, we reach your place on time. Do you want to know other reasons that claim our prestige? Look at the following reasons:
We never go with just any cleaning products for our hard surface cleaning Sydney services to get desirable results. We prefer going with chemical-free cleaning agents
Different teams belonging to our company has all the necessary credentials such as certificates and licence from the state
If our client wants us to demonstrate our customised cleaning process, we do it in an understandable language
With nothing such as extra fees for hard surface cleaning, you are free from all the worries about service costs
On complying with the rules and regulations of the industry for years now, we became one of the strongly-influencing companies in the industry.
We Also Provide Services in The Below Suburbs:
Reviews
Looks Good The Tiles Smell Super Fresh & Clean Now
★★★★★
"
Tile cleaners did a great job! A++ work and value he cleaned roughly 2,000 sq feet of tiled floor, everything looks brand new! He got out marker stains made by the kids and puppy stains, not only looks good the tiles smell super fresh & clean now. Appreciate the work this Tile and grout Cleaning Sydney team did today and has become our go-to company for future work.
"
"
The experts from this tile and grout cleaning Sydney company I hired did an amazing job in cleaning my tiles and getting rid of all the stains that were on them. No more bad smells. I will be telling everyone I know about this service. Highly recommended!
"
My Floor Looks New, Especially The Grout
★★★★★
"
The professional did a great job! He explained the process for my tile and grout cleaning. My floor looks new, especially the grout. The cleaner was friendly and communicated well with my family and me. Also answered all of my questions about what procedure he will follow and how long it would take. I would definitely recommend this tile and grout cleaning Sydney service!
"
Amazing Service With Exceptional Professionalism
★★★★★
"
The expert from this tile and grout cleaning Sydney team was outstanding! He provided amazing service with exceptional professionalism. Also elaborated on the actual problem with our grout and tile. The cleaner arrived on time and finished the job within the time the company promised. I will call them again in the future and highly recommend this service!
"
The Team Was Excellent To Work With
★★★★★
"
This tile and grout cleaning Sydney team were excellent to work with. They explained everything they were going to do and pricing before they started. Our flooring looks great now! Also provided beneficial instructions on how to better care for my floors and what cleaners to use moving forward. Would use it again and recommend it to others.
"

Tims Tile Cleaning Sydney
Location: 157 King St, Sydney, NSW 2000 Australia