Your Local Team For Granite Cleaning, Sealing And Restoration In Sydney
Granite has always been the right choice for people who want to have luxurious and classy property. Tims Tile Cleaning offers services that aid in making your granite surface look better. Using the right cleaning method for granites, we are committed to offering the best services to our clients. With perfect management and implementation of correct cleaning, sealing and restoration methods, we will be able to meet your expectations. Our experts maintain professional integrity to make sure that we deliver optimum quality services.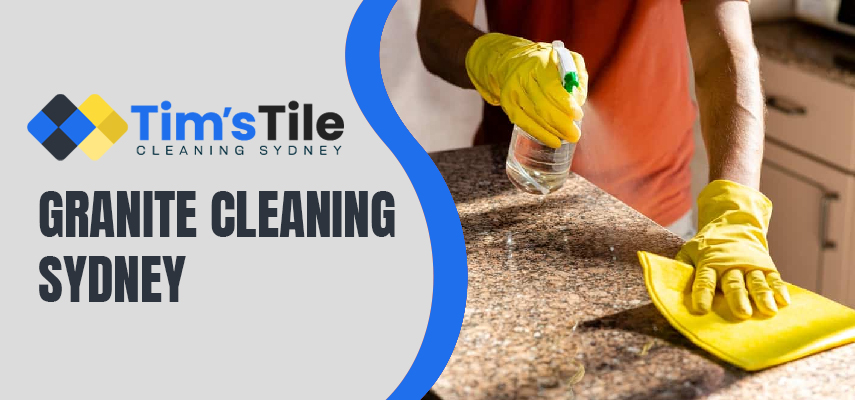 The areas that are covered by granite such as flooring, countertops, and covering of the kitchen or bathrooms, you can find them in their best look with our cleaning services. Our tile cleaning experts clean these areas solely using mild cleansers, for best results. So you can find your local and super tile cleaners with us to improve the look of your granite surfaces.
Why Granites Are A Good Choice For Many In Sydney?
Because of the high quality, people often choose granite.
Not only that, but it also is the easiest surface that can be cleaned with minimum effort.
With proper cleaning and polishing, you can restore their look easily and make your house look even more aesthetic.
As you are aware Granite is formed because of molten rock solidification. This is available in many shapes.
You can find them available in various shades and also contain different specks of many colours.
Since it is denser than marble, it doesn't get scratched easily. It is one of the toughest stones so it has a long life.
How Do Sealers Work On Granites?
Using the best impregnating sealers, we are here to provide a thin layer over the granite for protection. This acts as a barrier against all the harsh particles that it gets exposed to. The sealers that we use are transparent and do not leave any cast on the stone, thus it is often preferred by people to make sure that the granite surfaces are well protected. This sealer in specific can provide protection for up to 15 years. Thus, you don't have to worry about the surfaces once you get the sealing service done.
Importance Of Professional Granite Cleaning
Keeping the granite flooring and other surfaces neat and clean can be a challenge. So to get rid of the chaotic job, you can simply hire professionals. Though it is a difficult thing to maintain granite surfaces, professionals can make it easier for you. Do you know the importance of getting professional granite cleaning services? If not, you should definitely get enough information regarding the same. Because getting professional services for cleaning your granite surfaces is very important. Here are some important points:
Not only does it improve the look of your house, but also increases the longevity of granite surfaces on your property.
If your granite starts to look discoloured or worn out, you can simply rely on professionals to restore their look.
Experts can make old and tarnished granite surfaces look better in a few minutes.
Even though you had a protective sealer in the past, it might get old and the granite might look a bit dull. Experts can tackle this without harming the sealer.
Professionals will make it easier for you to maintain your granite surfaces, in addition to making them look pristine.
What Facilities Are Available At Tims Tile Cleaning?
For effective granite cleaning in Sydney, choose us. The company is exclusively driven by our customer's trust and our cleaners' passion. Some of our facilities include:
To bring your granite surfaces and counters back to a neat and clean look, you can find certified professionals at our company.
You can contact our team and get a new sealer in order to enjoy long-term protection of granite surfaces.
Since our company is a local one, our granite cleaning Sydney team is widely spread and offers services across all the regions of Sydney.
Our company is the most renowned one for cleaning granite surfaces and flooring.
Using the right cleaning agents that are not only effective but also safe, they can make your granite flooring appear the best. All the products that we use are free from harsh chemicals and are organic.
The most extensive and advanced cleaning methods are quite efficient to get the results that you desire. We use cutting-edge technologies when it comes to offering services to our clients.
Since we are a customer-based company, all the services that we offer are oriented to your needs.
Our team provides a wide variety of services to you, as we are a one-stop destination for you. From cleaning to sealing and stripping the granite stone, we offer various services.
If required, we even offer services to regrout the tiles.
With unique cleaning mechanisms and scrubbing techniques, we have changed the dimensions of offering granite services to clients.
Multiple Benefits By Hiring Our Team
We are extremely conscious of water wastage and only use the required amounts of water to clean the granite surfaces.
The cleaning agents we use are quite mild yet effective in getting rid of dirt and other particles, hence it is not going to damage the surface superficially.
We use sealants that are engineered to make them look more natural and are very particular about it.
All the services that we offer retain the natural look and colour of the granite.
For a glossy finish, our team offers the best penetrating sealing which enhances the colour and aesthetics.
Our services will make your surface less colour-absorbent. Furthermore, it gets easier to get rid of any spots, without having to put in the major effort!
Know About Our Company: Tims Tile Cleaning
Our company is top-rated and is highly suggested by many people across Sydney.
Our team is here to make you feel satisfied with the noticeable difference that we can make.
In addition to the quality of the services that we offer, people choose our services for the promptness with which we deliver them.
With several years of experience in the business, our company is here to provide the best services to our clients. We combine several years of experience into curating the best for our clients and ensure they are meeting their requirements.
We make sure to include all the services that you would need to keep the granite neat and clean.
We are available across Sydney and its suburbs, our team is here to assist.
We are quite adaptable and flexible in pricing and scheduling.
All the services that we offer are quite cost-effective and are also very affordable.
So to attain the fresh and natural look of the granite, you can simply contact us. It is important to take good care of your walls and floors. For any kind of professional tile cleaning assistance, do contact us at 02 8319 1071.
Our Major Service Areas And Suburbs In Sydney
Reviews
Looks Good The Tiles Smell Super Fresh & Clean Now
★★★★★
"
Tile cleaners did a great job! A++ work and value he cleaned roughly 2,000 sq feet of tiled floor, everything looks brand new! He got out marker stains made by the kids and puppy stains, not only looks good the tiles smell super fresh & clean now. Appreciate the work this Tile and grout Cleaning Sydney team did today and has become our go-to company for future work.
"
"
The experts from this tile and grout cleaning Sydney company I hired did an amazing job in cleaning my tiles and getting rid of all the stains that were on them. No more bad smells. I will be telling everyone I know about this service. Highly recommended!
"
My Floor Looks New, Especially The Grout
★★★★★
"
The professional did a great job! He explained the process for my tile and grout cleaning. My floor looks new, especially the grout. The cleaner was friendly and communicated well with my family and me. Also answered all of my questions about what procedure he will follow and how long it would take. I would definitely recommend this tile and grout cleaning Sydney service!
"
Amazing Service With Exceptional Professionalism
★★★★★
"
The expert from this tile and grout cleaning Sydney team was outstanding! He provided amazing service with exceptional professionalism. Also elaborated on the actual problem with our grout and tile. The cleaner arrived on time and finished the job within the time the company promised. I will call them again in the future and highly recommend this service!
"
The Team Was Excellent To Work With
★★★★★
"
This tile and grout cleaning Sydney team were excellent to work with. They explained everything they were going to do and pricing before they started. Our flooring looks great now! Also provided beneficial instructions on how to better care for my floors and what cleaners to use moving forward. Would use it again and recommend it to others.
"

Tims Tile Cleaning Sydney
Location: 157 King St, Sydney, NSW 2000 Australia