Environmentally-Friendly Stone Scratch Removal Services in Sydney
Have your surfaces become stained, discoloured or scratched? Has the shine of your flooring loosened? If you do not understand what to do then at this time you should remember our Stone Scratch Removal Sydney team which is able to remove almost all the scratches and restore your surfaces as it was originally. It is all due to our highly experienced professionals who work very hard day and night to provide the perfect finish which you always want from a scratch removal company.
We always try to work as per your expectations and come out clean on every requirement from your side. There are many companies that use many types of harmful chemicals in order to remove all the scratches without any hard work and ultimately cause damage to your stone or marble but our company uses eco-friendly products which also require some hard work and remove all the scratches completely without affecting your stone. Thus, if you want to remove this problem very easily then call our Tile and grout cleaning Sydney anytime.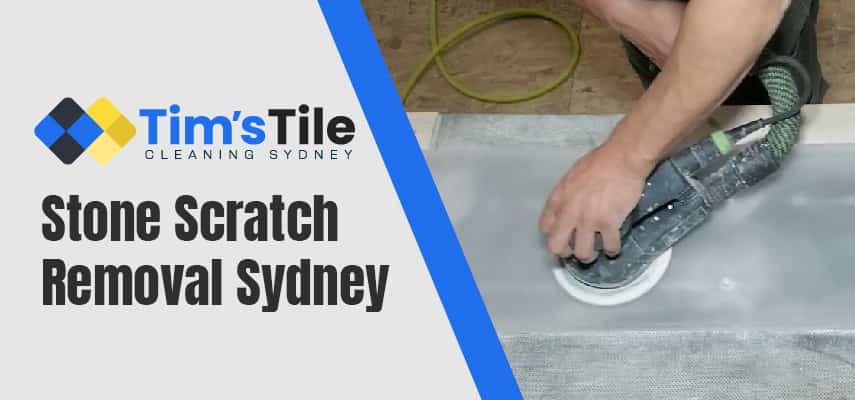 How Do Our Team Do This Scratch Removal Work
Marbles and other types of stones may be called softer stones and their surface may get easily scratched. It is also sensitive to acids as well as many other foods. That is why our Stone Scratch Removal Sydney team will always be there for you which removes every type of scratch from your flooring and makes it like the original. The whole process used by our professionals is given below:
Pre-inspection
In this step, our experts will perform an overall inspection of the process and then prepare a customised plan to meet your stone-specific needs.
Area Preparation
This step involves the preparation of the whole area of your home for the process. We take all the necessary steps to protect your walls, baseboards and surrounding areas with plastic or brown protective paper.
Cleaning
Here the cleaning of the stone occurs first before scratch removal. The cleaning process varies from stone to stone, soiling conditions, traffic use, damage, maintenance, etching, etc. We use the most scientifically advanced cleaning products.
Diamond grinding
When a stone is scratched, it can be restored only by using mechanical abrasives underneath a rotary machine. So, we use a diamond abrasive for stone scratch removal, also with this, grinding and polishing are performed with the use of water to contain dust.
Honing
To get a uniformly honed surface sheen all the stones are mechanically resurfaced using various diamond abrasive powders and water. This is sometimes done to remove the pre-existing surface polish.
Polishing
Very light amounts of etches, scratches and scuffs are removed with the polishing process and thus your stone is mechanically finished from a matte finish to a high gloss shine.
Sealing
Sealers are used which help in sealing the surface of the stone and thus restore your stone surface for various years and prevent it from scratches.
Post inspection
After the completion of the process and before leaving your house our team will again inspect the whole area whether all the work done is in a proper way or not and also provide you with some tips to maintain your stone.
The Advantages of Professional Stone Scratch Removal
Stone can easily be susceptible to damage or scratch if it is not maintained properly. These scratches and unwanted marks are almost impossible to remove without the application of correct procedures, techniques and equipment. With all these features you can get near a professional stone scratch remover only. Thus there are many benefits of hiring a professional for this great task which is as follows:
Quick and efficient removal
Scratches lose the beauty of your flooring and so you want an immediate and complete removal of scratches. Therefore, professionals are very quick in their techniques and procedures and remove all the scratches very efficiently.
Add sealing for extra protection
Sometimes at the time of flooring homeowners forget to apply sealing on their floors or sometimes they are not aware of it and so the floors are left unsealed. This causes the stone to absorb various types of moisture and may also create a scratch. With the help of professionals, you can seal your floors which remain at that time.
Use of high-quality products
As some of the scratches are very hard to remove and so high-quality products are used by professional companies which are able to clean, maintain and restore your stone as they follow the latest industry standards for stone restoration and so they are very beneficial for you.
The longer life of stones
Stones have their natural and unique finish but due to even a very little scratch, it gets lost. Hiring professionals for the scratch removal process, not only will your stone get a new life but its lifespan also increases which is a benefit.
Many times it happens that you leave the scratch on your stone as it is because you think its removal is very costly but as time goes on the scratch increases and it looks so dirty. Hence, this is to inform you that all professional services are not costly, some of them are cost-effective and also excellent services too. So, you can choose among them as per your affordability.
Now you perfectly understand the benefits of stone scratch removal by professionals and so you can easily go for our Stone Scratch Removal Sydney team any how.
What Are The Reasons For Hiring Our Team Of Experts?
Scratch removal from a stone is a very lengthy process and if you want to do it in your home then you only waste your time and then also you will never get satisfying results. Hence, it is best to hire our team of experts which is the Stone Scratch Removal Sydney team as there are many reasons behind this. You can have a look over this:
Experience and expertise
It is a very important fact that for filling of scratch or for its removal, you should have some experience with the type of stones, their removal procedures, products for removal and many other things which you can only get with a professional. Our team has 20 years of experience in the same work and so we are fully efficient for this work.
Under budget
Among a number of reasons for not hiring a professional, a big reason is their charges which are genuinely very high at some companies and are unaffordable for a normal person. But do not worry because, with our Stone Scratch Removal Sydney team, you can get the best services within your budget. So, book an appointment now.
Locally working
Our company has many branches around the whole of Sydney because Sydney is covered in a very large area and so our local working business becomes a routine for the people of Sydney as they easily get our services at a phone call only.
Good employees
There are many companies where employees never even talk with their customers correctly but here at our company, our employees are so down to earth because we feel it is a pleasure to serve you. You will get the best and most satisfying services from a phone call to the last inspection or completion of your service. Call us today.
Use of standardised techniques and procedures
All things are good everywhere, even best somewhere but the most important part of this service is the use of techniques and procedures because then only you can remove your scratch. Thus, you can come to our specialists without any doubt in your mind as we use standardised procedures and techniques for removal which are certified and modern equipment is used which are able to remove every kind of scratch. Hence, contact us anytime.
We Also Provide Services in The Below Suburbs:
Reviews
Looks Good The Tiles Smell Super Fresh & Clean Now
★★★★★
"
Tile cleaners did a great job! A++ work and value he cleaned roughly 2,000 sq feet of tiled floor, everything looks brand new! He got out marker stains made by the kids and puppy stains, not only looks good the tiles smell super fresh & clean now. Appreciate the work this Tile and grout Cleaning Sydney team did today and has become our go-to company for future work.
"
"
The experts from this tile and grout cleaning Sydney company I hired did an amazing job in cleaning my tiles and getting rid of all the stains that were on them. No more bad smells. I will be telling everyone I know about this service. Highly recommended!
"
My Floor Looks New, Especially The Grout
★★★★★
"
The professional did a great job! He explained the process for my tile and grout cleaning. My floor looks new, especially the grout. The cleaner was friendly and communicated well with my family and me. Also answered all of my questions about what procedure he will follow and how long it would take. I would definitely recommend this tile and grout cleaning Sydney service!
"
Amazing Service With Exceptional Professionalism
★★★★★
"
The expert from this tile and grout cleaning Sydney team was outstanding! He provided amazing service with exceptional professionalism. Also elaborated on the actual problem with our grout and tile. The cleaner arrived on time and finished the job within the time the company promised. I will call them again in the future and highly recommend this service!
"
The Team Was Excellent To Work With
★★★★★
"
This tile and grout cleaning Sydney team were excellent to work with. They explained everything they were going to do and pricing before they started. Our flooring looks great now! Also provided beneficial instructions on how to better care for my floors and what cleaners to use moving forward. Would use it again and recommend it to others.
"

Tims Tile Cleaning Sydney
Location: 157 King St, Sydney, NSW 2000 Australia