Quarry Cleaning, Sealing, And Restoration Sydney
For the restoration of your quarry tiles or to seal them, you would need professional assistance. Tims Tile Cleaning Sydney is here to offer the best quarry cleaning and sealing services. It is important to know more about quarry cleaning and the mechanism that goes behind it. Before using these quarry tiles, it is important to seal them properly. Glazing the quarry tiles is equally important as it helps in preventing the absorption of stains or water. This way, glazing helps the quarry tiles without getting affected. These tiles are quite porous and would require the application of penetrating sealer. Using the best penetrating sealers and cleaning agents, our quarry cleaning Sydney team will provide our clients with suitable services that help you in maintaining cleaner tiles and also increase their longevity.
To get our Tile and grout cleaning services, you can contact us and make an appointment in advance. Our experts can assist you in meeting all your needs relating to quarry tile cleaning and maintenance. With our restoration services, we will be able to aid in restoring the look of your quarry tiles.
Quarry tiles require good maintenance in order to offer the best results. If you want to know more about the importance of quarry tile cleaning, you need to know certain things about these tiles. Quarry tiles can be glazed or unglazed. These tiles are quite strong and strike the balance between the perfect combination of silica, iron, and minerals. Thus it gives it immense strength to withstand even tough conditions. For strengthening, these tiles are both pressurized and exposed to higher temperatures. This can make them strong enough to withstand even tough conditions. These tiles might also need regular cleaning services. Our quarry cleaning Sydney services will be extremely helpful for you in such situations.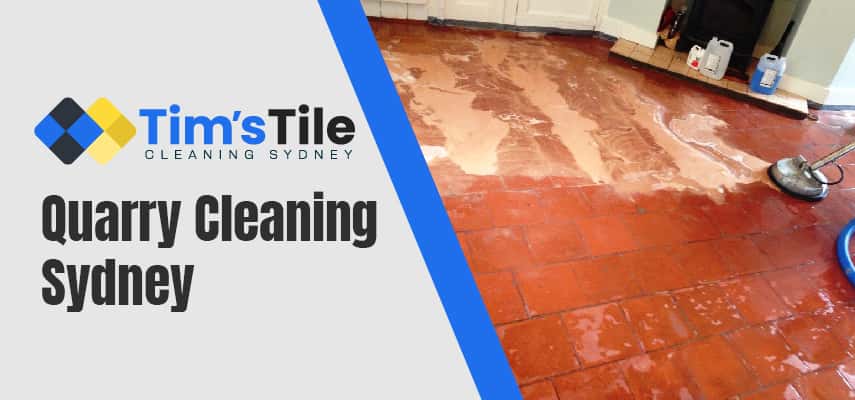 Cleaning Quarry Tiles Sydney By Professionals
In order to restore the quarry tiles' appearance, it is our responsibility to keep them immaculate. Hire our quarry cleaning Sydney team that is highly skilled and proficient. Using the most effective cleaning agents, we will get rid of the dirt and other particles from your quarry tiles. This helps in improving not only the look of your floor but instantly brightens up the property's look. For best results, contact our team to get the best cleaning services from professional experts. Be it stubborn stains or the accumulation of dirt, any factor can influence the deterioration of the tiling. To avoid this, we offer the most effective services, do check them out.
Sealing Quarry Tiles Sydney
Sealing the quarry tiles is one of the most important steps. Because it helps in preventing the quarry tiles from getting stained. Because we use the best penetrating sealers that form a barrier that will protect the tiles from direct exposure to any chemicals. If you are someone planning to maintain your tiles spotless, it is important to get our services. Without any further delay make your appointment now and get in touch with our team. Our experts will be there to assist you to offer the best sealing services and help you in giving the best results.
Stripping Quarry Tiles Sydney
Stripping is the most common service that most clients get. It's because to get rid of the old sealants and also the remnants off the tiles, stripping and scrubbing are quite essential. We are here to perform the stripping services which are performed using the latest technology. All the services that we offer including stripping will be available to all the residents in Sydney. Our team is the best for long-lasting and effective results. In case you are in need of these services, do reach out to us.
Repairing Quarry Tiles Sydney
Repairing the quarry tiles is possible with the help of our experts. Because we can perform both indoor and outdoor tile repair and replacement services, it becomes easier for you to achieve the best results. Sometimes the tiles might break which spoils the aesthetics. To fix this, our experts will repair your quarry tiles which can be very beneficial for you. If repairing is not possible, we further replace these tiles with newer ones. Since our experts are readily available across Sydney, do reach out to us. Our team is just a phone call away and is ready to offer the services to you instantly.
Contact Our Experts Now!
In case you are looking for expert services in Sydney, you can simply rely on us. You can contact us at (02 8319 1071) to make your appointment now and get early access to our quarry cleaning Sydney services. You can also reach out to us for a free estimate over the phone call.
We Also Provide Services in The Below Suburbs:
Reviews
Looks Good The Tiles Smell Super Fresh & Clean Now
★★★★★
"
Tile cleaners did a great job! A++ work and value he cleaned roughly 2,000 sq feet of tiled floor, everything looks brand new! He got out marker stains made by the kids and puppy stains, not only looks good the tiles smell super fresh & clean now. Appreciate the work this Tile and grout Cleaning Sydney team did today and has become our go-to company for future work.
"
"
The experts from this tile and grout cleaning Sydney company I hired did an amazing job in cleaning my tiles and getting rid of all the stains that were on them. No more bad smells. I will be telling everyone I know about this service. Highly recommended!
"
My Floor Looks New, Especially The Grout
★★★★★
"
The professional did a great job! He explained the process for my tile and grout cleaning. My floor looks new, especially the grout. The cleaner was friendly and communicated well with my family and me. Also answered all of my questions about what procedure he will follow and how long it would take. I would definitely recommend this tile and grout cleaning Sydney service!
"
Amazing Service With Exceptional Professionalism
★★★★★
"
The expert from this tile and grout cleaning Sydney team was outstanding! He provided amazing service with exceptional professionalism. Also elaborated on the actual problem with our grout and tile. The cleaner arrived on time and finished the job within the time the company promised. I will call them again in the future and highly recommend this service!
"
The Team Was Excellent To Work With
★★★★★
"
This tile and grout cleaning Sydney team were excellent to work with. They explained everything they were going to do and pricing before they started. Our flooring looks great now! Also provided beneficial instructions on how to better care for my floors and what cleaners to use moving forward. Would use it again and recommend it to others.
"

Tims Tile Cleaning Sydney
Location: 157 King St, Sydney, NSW 2000 Australia