Discover Top-notch Grout Cleaning Services in Sydney – Available Throughout the City
Are you confounded by the discovery of obstinate soil firmly entrenched within the crevices of your grout? Do you find yourself perplexed and at a loss as to how to rejuvenate it to its former pristine condition? Look no further, for the enigmatic solution lies within the realm of Tims Tile Cleaning Sydney. With an unparalleled depth of expertise garnered over the course of countless years within the labyrinthine domain of grout cleaning, we have unravelled the intricate secrets behind the occurrence of efflorescence or the disconcerting fading of colours in the grout. Armed with this arcane knowledge, we embark upon our mission to restore your grout to a state of resplendent revitalization, leaving you astounded by the breathtaking transformation that shall manifest in mere moments.
Are you planning to clean your wall and floor grout every 12 to 18 months? It was a wise decision. But we would suggest you grab our budget-friendly professional grout cleaning Sydney services instead of cleaning on your own. Because it is always a hassle-free thing if you stop spending hours cleaning your grout and leave everything in our experts' hands. Do you want us to renew your grout? Connect with us today by calling 02 8319 1071.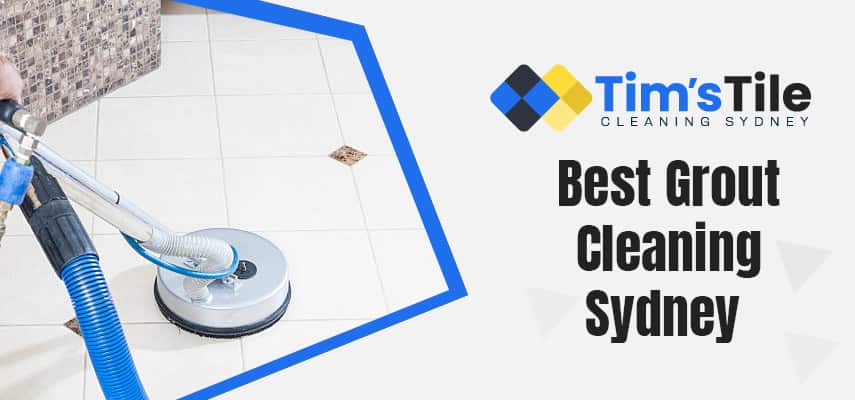 Why Do Grouts Need A Timely Cleaning Program?
Grout is a combination of sand, cement and water, is porous and eventually becomes the victim of many accidents. This, in turn, arises the need for routine grout cleaning programs and their importance.
Extends Grout Lifespan: Availing of professional grout cleaning services regularly helps you preserve the life of grouts and extend their lifespan. Once the lifespan of grout extends, your walls and floors become presentable too.
Mould-Free Area: When the dirt in kitchens and bathrooms comes in contact with water, mould starts growing over there. But with on-time grout cleaning programs, the grout in both kitchens and bathrooms will be free of mould.
No More Harmful Germs: Routinely upkeeping your grout with cleaning services gets rid of harmful germs and decreases health risks. So, be it a home or office with grout mould, do not neglect their cleaning.
Saves Your Time & Efforts: Professional grout cleaning services save both time and effort you put into DIY tips implementation. Moreover, the costs charged for professional efforts and their cleaning programs are cost-effective.
Stain-Free & Odour-Free: Scrubbing and spraying on your own for grouts doesn't make them stain-free and odour-free because they need specialist help. So, once you avail of customised expert programs for grout cleaning, walls and floors become stain and odour-free.
Techniques Employed by Our Professional Grout Cleaning Team in Sydney to Restore the Appearance of Your Grout
From bookings for grout cleaning Sydney services to post-inspection, our specialised grout cleaners perform everything on their own. Also, we have years of experience in restoring even irreversible grouts to make them look attractive and bright. Our approaches for this are,
In order to provide safe grout cleaning Sydney services, we make use of tested and approved solutions that assures effective results
We have customised methods like high-pressure extraction, stain, mould and odour treatments
At no extra charge, we inspect the grout to clean it and give it protection by adding sealant layers
To make your grout reappear brilliantly, we take help from advanced technology
With 24/7 hour customer support, we take appointments for quotes too other than emergency service bookings
Our Special Grout Sealant For Retaining The Sheen Look Of Your Refurbished Grout
Connect with our experts right this instant if you want to retain the sheen of your grout and make them look as healthy as a new one. We make the life of your grouts easier by sealing them and this in turn increases the longevity of your grout. With the right grout sealants being used, your grout gets protection from day-to-day wear and natural deterioration. Depending on the grout, our grout cleaning Sydney team acts to offer grout sealant service to people in residential and commercial spaces. Our grout sealing is worth it!
Call Us To Recieve An Amazing Grout Cleaning Sydney Service
Our intensive grout cleaning Sydney methods consist of a wide range of solutions that resolve all of your grout problems and make them tough. With professional grout cleaners and their skills in using state-of-the-art cleaning systems, our help is perfect for your grout. And this became one of the reasons why locals of Sydney ensure their grout cleaning issues are in our hands. We serve neighbouring areas of Sydney like Bondi Beach, Chatswood, Liverpool, Milsons Point, Blacktown, Penrith and others. Thus, contact us immediately!
We Also Provide Services in The Below Suburbs:
Reviews
Looks Good The Tiles Smell Super Fresh & Clean Now
★★★★★
"
Tile cleaners did a great job! A++ work and value he cleaned roughly 2,000 sq feet of tiled floor, everything looks brand new! He got out marker stains made by the kids and puppy stains, not only looks good the tiles smell super fresh & clean now. Appreciate the work this Tile and grout Cleaning Sydney team did today and has become our go-to company for future work.
"
"
The experts from this tile and grout cleaning Sydney company I hired did an amazing job in cleaning my tiles and getting rid of all the stains that were on them. No more bad smells. I will be telling everyone I know about this service. Highly recommended!
"
My Floor Looks New, Especially The Grout
★★★★★
"
The professional did a great job! He explained the process for my tile and grout cleaning. My floor looks new, especially the grout. The cleaner was friendly and communicated well with my family and me. Also answered all of my questions about what procedure he will follow and how long it would take. I would definitely recommend this tile and grout cleaning Sydney service!
"
Amazing Service With Exceptional Professionalism
★★★★★
"
The expert from this tile and grout cleaning Sydney team was outstanding! He provided amazing service with exceptional professionalism. Also elaborated on the actual problem with our grout and tile. The cleaner arrived on time and finished the job within the time the company promised. I will call them again in the future and highly recommend this service!
"
The Team Was Excellent To Work With
★★★★★
"
This tile and grout cleaning Sydney team were excellent to work with. They explained everything they were going to do and pricing before they started. Our flooring looks great now! Also provided beneficial instructions on how to better care for my floors and what cleaners to use moving forward. Would use it again and recommend it to others.
"

Tims Tile Cleaning Sydney
Location: 157 King St, Sydney, NSW 2000 Australia