Hassle-Free Slate Tile Cleaning Service In Sydney
Slate tiles are used for both floors and walls. Moreover, slate tiles at home look uniquely beautiful. Also, slate tiles come in a variety of shades and colours. Well, it's very essential to maintain and clean the slate tiles at regular intervals. So, if your slate tiles are becoming dull and losing their true colour. Then contact our Slate Cleaning Sydney team for the deep cleaning service. We have trained experts for maintaining slate tiles. Moreover, we use the best and most effective solutions for cleaning slate tiles. Also, we offer a wide range of Best Tile cleaning services in Sydney.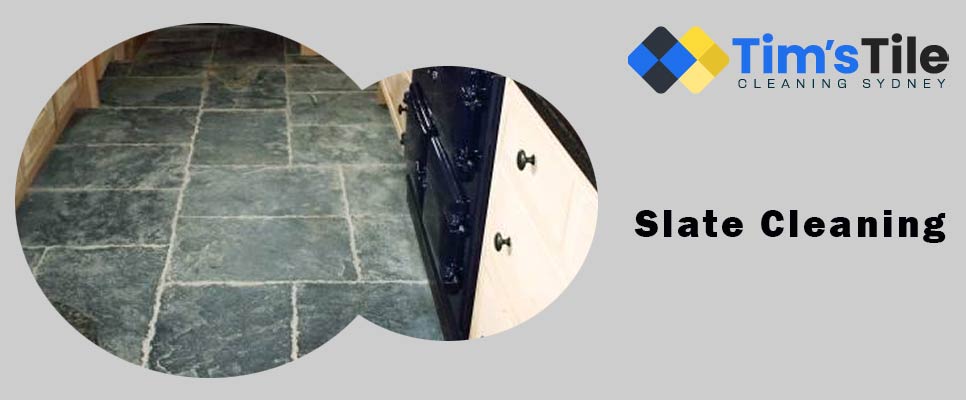 Tims Tile Cleaning Sydney has modern tools and strong solutions for removing stains and spots from slate. Receive our quick and customer-friendly slate cleaning services in Sydney today! Give us a call at 02 8319 1071for a hassle-free slate cleaning service.
Effective Procedure We Follow For Cleaning The Slate Tile
Our Slate Cleaning Sydney team follows the quality process during the service. Thankfully with the slate cleaning process, we have impressed a number of our clients. Hence following is the process we follow for slate cleanings:
Inspection: First, we inspect the slate tile from every corner. In the inspection, we analyse the treatment we must use for slate cleaning.
Vacuum: In the next step, we vacuum the slate tile. Thus we use an industry-approved vacuum for removing the dust and dirt from the tiles.
Steam And Dry Cleaning: Based on inspection we clean the slate tiles. For intense cleaning, we follow the hot water extraction method for slate. In the dry cleaning, we clean the slate tiles without water.
Sanitizing Tiles: After this, we follow the sanitisation method for disinfecting the germs from slate tiles.
Reinspection: lastly we reinspect the state tile for checking the result of our service. Therefore for the best slate tile cleaning service contact us.
Why Choose Our Experts For The Slate Cleaning Service In Sydney?
Are your slate surfaces losing their natural allure, hidden under layers of grime and dirt? Look no further! Our team of dedicated experts is here to deliver top-notch slate cleaning service in Sydney, ensuring your spaces shine with renewed brilliance. Why entrust us with your slate cleaning needs? Because we are committed to surpassing your expectations and providing exceptional results that will leave you breathless!
Unmatched Expertise
Our highly skilled technicians are true masters in the art of slate cleaning. With their years of experience and unparalleled knowledge, they possess the expertise to restore your slate surfaces to their original splendor.
State-of-the-Art Techniques
Equipped with cutting-edge techniques and advanced equipment, we employ the latest innovations to revitalize your slate surfaces. Our meticulous approach ensures deep cleaning and meticulous attention to detail, leaving no trace of grime behind.
Personalized Attention
We understand that each slate surface is unique, requiring an individualized approach. Our experts meticulously assess your specific needs, tailoring their cleaning methods to deliver outstanding results that showcase the natural beauty of your slate.
Unrivaled Customer Satisfaction:
Your satisfaction is our top priority. We are committed to going the extra mile to ensure that every aspect of our service exceeds your expectations. With open communication, attention to detail, and a customer-centric approach, we guarantee your complete satisfaction.
Trustworthy and Reliable:
We are a name you can trust. Our team of professionals is dedicated to providing reliable and trustworthy service, delivering on our promises and meeting your deadlines. You can have peace of mind knowing that your slate surfaces are in the hands of experts.
FAQs
Q.1 How I Will Be Knowing Why My Slate Tile Needs Cleaning?
When your slate tile becomes dull and not in its actual colour. Then understand that you need an early slate cleaning service in Sydney. Thus for the best slate cleaning service contact our experts as soon as possible.
Q.2 Are Your Slate Cleaning Solution Toxic?
With years of experience, we know how the safety of your family is important. Thus we use organic and effective solutions for cleaning the slate tile. Hence, our slate cleaning solutions are eco-safe.
Q.3 Do You Offer Commercial Slate Cleaning Services In Sydney?
Yes, we offer both residential and commercial slate cleaning services in Sydney. We are available in all suburbs of Sydney for slate cleaning services in Sydney. Therefore contact us quickly for the versatile slate cleaning service.
We Also Provide Services in The Below Suburbs:
Reviews
Looks Good The Tiles Smell Super Fresh & Clean Now
★★★★★
"
Tile cleaners did a great job! A++ work and value he cleaned roughly 2,000 sq feet of tiled floor, everything looks brand new! He got out marker stains made by the kids and puppy stains, not only looks good the tiles smell super fresh & clean now. Appreciate the work this Tile and grout Cleaning Sydney team did today and has become our go-to company for future work.
"
"
The experts from this tile and grout cleaning Sydney company I hired did an amazing job in cleaning my tiles and getting rid of all the stains that were on them. No more bad smells. I will be telling everyone I know about this service. Highly recommended!
"
My Floor Looks New, Especially The Grout
★★★★★
"
The professional did a great job! He explained the process for my tile and grout cleaning. My floor looks new, especially the grout. The cleaner was friendly and communicated well with my family and me. Also answered all of my questions about what procedure he will follow and how long it would take. I would definitely recommend this tile and grout cleaning Sydney service!
"
Amazing Service With Exceptional Professionalism
★★★★★
"
The expert from this tile and grout cleaning Sydney team was outstanding! He provided amazing service with exceptional professionalism. Also elaborated on the actual problem with our grout and tile. The cleaner arrived on time and finished the job within the time the company promised. I will call them again in the future and highly recommend this service!
"
The Team Was Excellent To Work With
★★★★★
"
This tile and grout cleaning Sydney team were excellent to work with. They explained everything they were going to do and pricing before they started. Our flooring looks great now! Also provided beneficial instructions on how to better care for my floors and what cleaners to use moving forward. Would use it again and recommend it to others.
"

Tims Tile Cleaning Sydney
Location: 157 King St, Sydney, NSW 2000 Australia