Outdoor Tile Cleaning In Sydney By Expert Technicians
When it comes to offering outdoor tile cleaning in Sydney, we at Tims Tile Cleaning Sydney are your best company. Employing a High-Pressure washing technique, our expert technicians deep clean your concrete pathways, patios, and driveways, removing the unsightly grease marks, slippery algae, and moss, making it well-polished, spotless, and skid-proof! We offer a wide range of outdoor tile cleaning solutions including Concrete Cleaning, Concrete Washing, Pavers Sandstone Cleaning, Brick Cleaning & Restoration, Timber Cleaning, and so on!
To achieve optimal results, outdoor tile cleaning necessitates the use of a chemical cleaning solvent in combination with pressurized water. The chemical agents effectively target stains and accumulated dirt, reducing the need for excessive water usage. This is crucial as excessive water can potentially jeopardize the integrity of the substrates. At Tims Tile Cleaning, we prioritize the use of biodegradable chemicals that facilitate the cleaning process while preserving the environment and indoor air quality.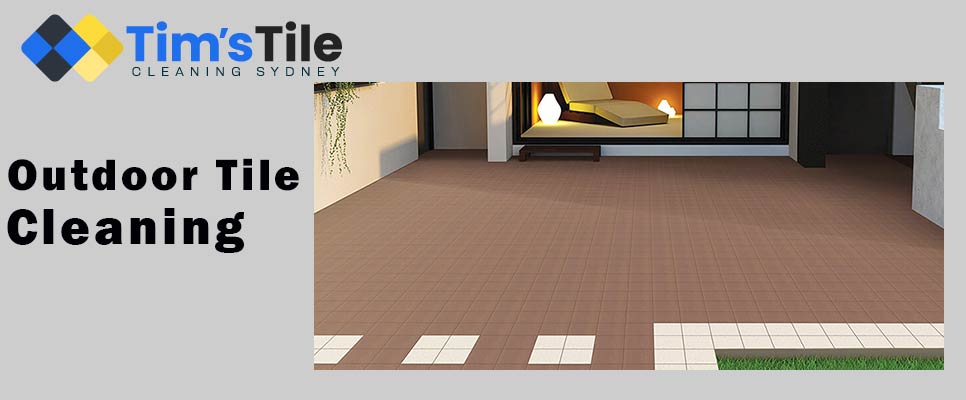 The primary purpose of employing high-pressure washing is to eliminate mould, mildew, and algae from their roots. By doing so, the tile surface remains cleaner and more presentable for an extended period. Merely cleaning the top layer of the tiles runs the risk of leaving behind spores, leading to a potential re-infestation.
However, not all tile surfaces can be made crystal clear with the same cleaning approach. This is the reason consulting a professional for outdoor tile cleaning is crucial. Our expert tile cleaners assess the material and nature of the tile and chalk out a foolproof customised cleaning program, ensuring a remarkable cleaning result.
Our Outdoor Tile Cleaning Process In Sydney
At Tims Tile Cleaning, we undertake a 3-step cleaning process to make your outdoor tile flooring immaculate and sparkling.
Step 1: Our experts at first use fine-tuned eco-friendly cleaning agents to loosen the deep-seated dirt build-up, moulds, mildews, moss, algae, etc from the tile surface.
Step 2: Once the contaminants loosened up, our experts gently scrub the hard-tiled surface to eliminate all possible traces of dirt build-up, grease, and stain using biodegradable chemical solutions.
Step 3: Finally, our skilled technicians use high-pressure water to clear out all the unwanted contaminants from the tiled surface, leaving it spotless, odour-free, skid-resistant, and gleaming.
Removal Of Oil & Grease From the Tile Surface
Both oil and grease tend to leave ugly stubborn stains if not treated immediately. The situation gets out of hand when the oil or grease is spilled on concrete, tiled flooring, or a stone paver that is not sealed, the stains are most likely to become permanent unless you clean it fast. Also, make sure to use eco-friendly stain removal products to avoid the harsh effects of chemical products.
When using high-pressure cleaning techniques in outdoor tile cleaning, only commercial-approved cleaning tools and components should be employed. With a team of skilled technicians and industry-grade tile cleaning resources, we promise to bring back the lost lustre of your hard surface removing oils, grease stains, moulds, mildews, etc.
Pressure Washing On Outdoor Tile and Grout
With regular exposure to harsh weather conditions, dirt, soil erosion, grease marks, oil spills, etc., your beautiful stoned or tiled driveway could become dull and tarnished. Also, due to moisture retention and improper cleaning techniques, your driveway might become the ideal breeding spot for moulds, mildews, moss, etc.
As a result, the hard surface becomes very unappealing and at the same time health hazardous. But you can rest all your worries as our tile cleaning experts at Tims restore the new-like sheen and glam of the flooring or driveway right away with pressure washing. We use advanced equipment and cleaning products to ensure the best possible outcome for both residential and commercial outdoor tile cleaning in Sydney.
Outdoor Tile Sealing
The outdoor tile flooring is always exposed to harsh weather conditions and exterior elements like wind, sun, rain, and frost. No matter how sturdy the hard surface is, external threats will surely lead it to the way of decay and damage. In order to protect the tile flooring from external contaminants and extend its durability, you definitely need to think about sealing it. And speaking of sealing, choosing the right type of sealant is extremely crucial, or else it will wear out soon. In this matter, seeking help from our professionals can be great as they can guide you in choosing the best-fit sealer that lasts long.
Various Types of Sealers to Consider for Outdoor Tiles
When you are choosing a sealer to use on outdoor tile, both water, and solvent-based ones can work. However, if you ask which one will show better results, we will always suggest you go for the water-based sealants. Not only they are used to apply, but also dry out fast. Most importantly, water-based sealants do not create any harmful fumes at the time of application. Also, the type of water sealer you pick to apply on the hard surface determines its efficiency. Since water-based sealers are generally made for indoor use, not all of them can be a good choice for your outdoor use. So, take expert help and make your choice wisely. Choose one that is UV resistant and skid-free.
Alongside choosing the right sealer for your outdoor tile, there is one more aspect to take care of to make the sealant long-lasting, i.e, outdoor tile cleaning. Unless you clean the tile and grout well and clean the dirt and debris properly, the sealants won't sit properly and can wear away within a few weeks.
Penetrating Sealers
Penetrating sealants work great in sealing your concrete or hard-surfaced pavers. It infiltrates deep and protects the surface from the inside. Once applied, the sealer fills the tile and grout pores with synthetic or natural resin. When the sealer dries out, the solvent and water slowly evaporate, leaving the resin inside the pores. The resin later hardens and forms an invisible protective shield, preventing the hard surface from soaking any unwanted elements. The finest thing about penetrating sealers is that it permits the tiled surface to breathe, which means it will never peel out. Our outdoor tile cleaning Sydney experts always recommend using Australian Deepshield™ penetrating sealers as these water-based sealers are specially designed for outdoor use, and UV-resistant, ensuring long-lasting results.
Using penetrating sealers, you can protect your outdoor tiles and grout from unsightly oil and water-soluble stains by creating an invisible protective guard. As a result cleaning and maintaining the tiles become easier and hassle-free. You can also opt for the colour-enhancing penetrating sealer to enrich the natural tint of the stone tile.
Topical Sealers Or Film Forming
The tropical sealers develop a film on the surface of the substrate, creating a coat that secures it against all external threats. Tropical sealers help to diminish your tile's natural soaking ability. This as a result lets the foreign materials stay on the top layer of the hard surface instead of sinking in.
Moreover, if you want to add colour, and gloss with these sealers, non-slip grits along with hardeners, you can! Well, the colour-coated sealers are great for office, factory, and garage surfaces.
The sealants that are solvent-based are very tricky to apply. And if you apply it in the wrong way, it can be pretty difficult to remove. That is why our outdoor tile cleaning Sydney experts always recommend applying water-based sealers outside. The tropical sealers come with a glossy finish and are widely used on outdoor tiles. However, this type of sealer tends to retain moisture on the hard surface and also makes the surface slippy. Also if a topical sealer starts to wear off, the professionals need to scrap it out and reseal it.
Reviews
Looks Good The Tiles Smell Super Fresh & Clean Now
★★★★★
"
Tile cleaners did a great job! A++ work and value he cleaned roughly 2,000 sq feet of tiled floor, everything looks brand new! He got out marker stains made by the kids and puppy stains, not only looks good the tiles smell super fresh & clean now. Appreciate the work this Tile and grout Cleaning Sydney team did today and has become our go-to company for future work.
"
"
The experts from this tile and grout cleaning Sydney company I hired did an amazing job in cleaning my tiles and getting rid of all the stains that were on them. No more bad smells. I will be telling everyone I know about this service. Highly recommended!
"
My Floor Looks New, Especially The Grout
★★★★★
"
The professional did a great job! He explained the process for my tile and grout cleaning. My floor looks new, especially the grout. The cleaner was friendly and communicated well with my family and me. Also answered all of my questions about what procedure he will follow and how long it would take. I would definitely recommend this tile and grout cleaning Sydney service!
"
Amazing Service With Exceptional Professionalism
★★★★★
"
The expert from this tile and grout cleaning Sydney team was outstanding! He provided amazing service with exceptional professionalism. Also elaborated on the actual problem with our grout and tile. The cleaner arrived on time and finished the job within the time the company promised. I will call them again in the future and highly recommend this service!
"
The Team Was Excellent To Work With
★★★★★
"
This tile and grout cleaning Sydney team were excellent to work with. They explained everything they were going to do and pricing before they started. Our flooring looks great now! Also provided beneficial instructions on how to better care for my floors and what cleaners to use moving forward. Would use it again and recommend it to others.
"

Tims Tile Cleaning Sydney
Location: 157 King St, Sydney, NSW 2000 Australia