Convenient Terrazzo Cleaning Services in Sydney – Get the Assistance You Need
If you are a resident of Sydney who wants to clean terrazzo surfaces that are very difficult to clean and looking for a good service that cleans terrazzo tiles very conveniently then we have good news for you. Our Terrazzo Cleaning Sydney team is the best option for you. Our Tile and grout cleaning company was established 20 years ago and provides high-quality cleaning of residential, industrial and commercial terrazzo tiles and other floors. Tims Tile Cleaning Sydney provide our customers with such services which are suitable for them. At the time when your terrazzo floors are looking very dirty and uncomfortable for you then at this time, our experts will provide you with assistance for tough and trouble-free floors for many years. Thus, hire our services as and when you think fit.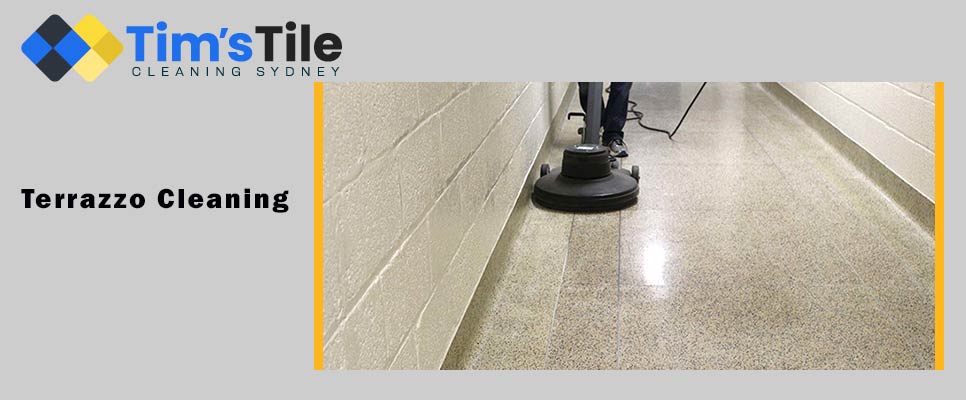 The Cleaning Procedure For Terrazzo Floors Followed By Our Team
Terrazzo floors are made up of concrete, marble, granite, glass and various other materials. They look very beautiful and elegant and they can be made in any form of shape and size. The cost of these floors is very high and they slightly lose their appeal and everyone cannot afford them. These floors are very durable and have a very long life. So, to keep it in a good condition for years of life our Terrazzo Cleaning Sydney team follow the following steps for its cleaning:
Cleaning of terrazzo floors: You can clean them in two ways: daily cleaning and deep cleaning. The deep cleaning facility is for the people who clean their floors on a daily basis and it includes deep cleaning and grime removal, high-speed polishing, repair and restoration. Our experts always suggest using high PH heavy-duty floor cleaning products and fine polishing diamond pads.
Polishing: For polishing terrazzo floors and to enhance the gloss and for increasing its protection these floors can be sealed with a water-based or solvent-based sealer. On the basis of tiles, special polishing creams or powders can be applied and can be buffed with heavy-duty industrial buffers.
Maintenance: For maintenance, after the sealant is applied to the surface, the floor has to be washed with a high PH floor cleaner for avoiding dirt impregnation. Traffic should be reduced on the floors for some time and while washing them a little amount of cleaner and maintenance should be left on the surface to repair scratches, dull patches and imperfections. After this process buffs, the floor trapping of dirt will cause discolouration of floors.
This is the whole process followed by our renowned experts and if you want the best solution then call our terrazzo floor cleaning services now.
How You Will Benefit From Professional Terrazzo Cleaning
Terrazzo surfaces are considered to be luxurious surfaces and so they need a lot of maintenance. If you maintain it properly then it has the ability to withstand a high amount of traffic and that is why it is commonly used in commercial flooring. It has a number of benefits and to get the advantage of these benefits, you have to take help from professionals for cleaning these floors. Professional cleaning is very beneficial due to the following reasons:
Restoration of terrazzo flooring
As we all know that terrazzo flooring is very costly and everyone cannot afford it and so if you clean it with the help of professionals then they clean it properly without any damage and restore it and also maintain its worthiness.
Enhance the shelf life of terrazzo surfaces
It is an obvious fact that dirty and infected surfaces get damaged easily and very early and thus you should hire professionals who clean your dirty and infected terrazzo surfaces with standardised procedures and techniques and thus enhance the shelf life of these surfaces.
Saves replacement cost
When your terrazzo surfaces absorb a lot of dust, grime and many types of allergens then it gets completely damaged and you have no other option instead of replacing them which is very costly hence cleaning by professionals prevents them from damaging and thus saves the cost of replacing it.
More effective than DIY
It is really not a joke to clean and maintain terrazzo floors. We know that you invest money in it and so you keep it clean and maintain it in a proper way but not as compared to professionals. Professionals use the application of advanced technologies and with the use of modern equipment, deep clean your floors hence they are more effective than DIY.
How to Determine That Our Company Experts are the Best for Cleaning Your Terrazzo Surfaces?
Terrazzo surfaces are made from discarded materials, that is, it is a mixture of various types of stones whose fragments are mixed in appropriate proportion to form a complex which is considered to be a Terrazzo. Thus you can get all the properties of every kind of stone in a single composite floor. But its cleaning is not easy and if you are in Sydney then you have to realise the fact that our Terrazzo Cleaning Sydney team is the best among the others and the point which proves these facts are given below:
Cutting-Edge Equipment and Advanced Procedures
When you hire our team of experts then only you feel the difference that our cleaning procedures are widely different from others. We make use of highly advanced equipment which is better than others.
Certified and licensed team
Nowadays you can only trust a company or anything which is approved by something or has some kind of certification and therefore, we are reliable for you because we are certified by IICRC and every expert has a licence for doing their work. So, you can book us anytime.
365 days available
These are the types of services that you need anytime and taking this into account we at our company provide you services every day of the year that is 365 days a year. You can apply for it whenever you feel the requirement for it.
Skilled and Innovative Professionals
Our team is made up of such types of specialists who have immense knowledge of their work and also of terrazzo flooring and are also very creative. That is, they develop their own ways of doing their work properly without any mistakes. Hence, they proved that they are the best choice for you.
Years of expertise
When you come to know or notice that your terrazzo floors are very dirty then that is the particular time when you search for an experienced company only as it is a belief that if a company is old then it is very experienced and best in its services. Following this, we can say that we are able to provide you with excellent services as we have 20 years of expertise in cleaning terrazzo surfaces and other tiles.
Reviews
Looks Good The Tiles Smell Super Fresh & Clean Now
★★★★★
"
Tile cleaners did a great job! A++ work and value he cleaned roughly 2,000 sq feet of tiled floor, everything looks brand new! He got out marker stains made by the kids and puppy stains, not only looks good the tiles smell super fresh & clean now. Appreciate the work this Tile and grout Cleaning Sydney team did today and has become our go-to company for future work.
"
"
The experts from this tile and grout cleaning Sydney company I hired did an amazing job in cleaning my tiles and getting rid of all the stains that were on them. No more bad smells. I will be telling everyone I know about this service. Highly recommended!
"
My Floor Looks New, Especially The Grout
★★★★★
"
The professional did a great job! He explained the process for my tile and grout cleaning. My floor looks new, especially the grout. The cleaner was friendly and communicated well with my family and me. Also answered all of my questions about what procedure he will follow and how long it would take. I would definitely recommend this tile and grout cleaning Sydney service!
"
Amazing Service With Exceptional Professionalism
★★★★★
"
The expert from this tile and grout cleaning Sydney team was outstanding! He provided amazing service with exceptional professionalism. Also elaborated on the actual problem with our grout and tile. The cleaner arrived on time and finished the job within the time the company promised. I will call them again in the future and highly recommend this service!
"
The Team Was Excellent To Work With
★★★★★
"
This tile and grout cleaning Sydney team were excellent to work with. They explained everything they were going to do and pricing before they started. Our flooring looks great now! Also provided beneficial instructions on how to better care for my floors and what cleaners to use moving forward. Would use it again and recommend it to others.
"

Tims Tile Cleaning Sydney
Location: 157 King St, Sydney, NSW 2000 Australia