Affordable Tile Sealing Services in Sydney Without Compromising Quality!
Tims Tile Cleaning Sydney offers the leading and top-rated certified service, which helps to fix all kinds of Sydney's residential and commercial tile relatable problems.
If you want to give a new and finished appealing look to the walls and floor in your house, then you must consider tiling. But only tiling is also not enough, one should get done with tile sealing as well in the case of man-made or natural tiles around. Sealing is the process, in which we cover the tiles with protective layers to prevent staining and expand the lifespan of tiles.
For excellent tile sealing service, you should get in touch with our expert tile sealing Sydney team. These professionals are going to inspect the walls and floors properly to do the best tile cleaning services. We will suggest the righteous sealant and take responsibility to do the whole sealing process of walls and grounds.
Our team is available to provide a number of services: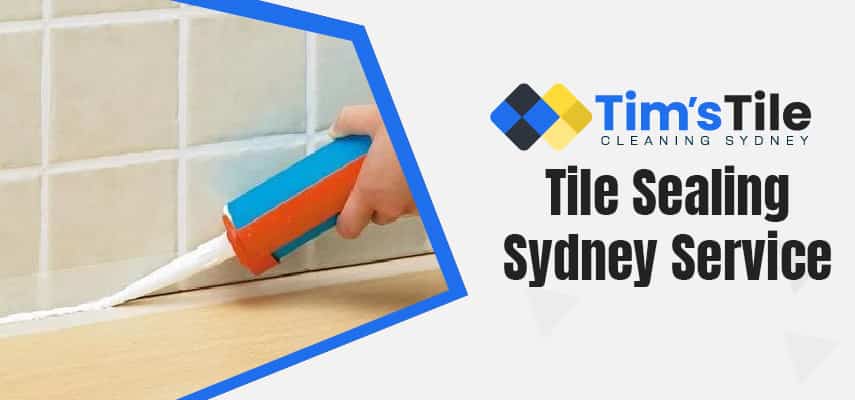 Avail of Our Tile Sealing Process: Seal and Save The Tiles With Our Trustworthy Assistance
Our tile sealing process is very smooth and sorted to perform, in which the professional will utilise resin substance applied over tiles on the porous natural stone or the made-made tile surface also. For getting the perfect tile sealing, you should take help from the experts, because there are different tile sealers to be used for different styles of tiles. There are two types of sealers, which are suggested to use for residential tiles mentioned right below:
Surface Sealants: These sealants are coated over tiles or grouts. It is made for stain resistance over the tile's surface. This sealant has lustrous properties in it, which helps to increase the shine and natural colour of tiles. Moreover, the durability of tiles will also increase.
Penetrating Sealants: This sealant is absorbed by tiles and grouts in their depth, which forms a stain-resistant coating below the surface. This sealant does not contain lustrous properties, which is why it will not change the appearance of tiles of walls and ground.
Our professionals will do the best possible tile coating and sealing service. They will do work in a highly professional manner within budget-friendly cost. The tile sealing Sydney and coating service are available for different types of tiles:
Slate
Limestone
Marble
Sandstone
Travertine
Concrete Tiles
Porcelain
Pavers
Terracotta
Terrazzo
Whatever the different types of tiles and grouts are, our experts are available to assist you with the feasible service. The sealant will protect floors, walls, and all the tiles. It will prevent oxidation, deterioration, and daily wear & tear.
Discuss Your Tile-Related Concerns and Connect with Expert Tile Sealing Services in Sydney
To protect your tiles and grouts, you can share all the problems with us related to walls and floors. Our professional team is very friendly, we are available to talk and sort out your problems as well. You can fix an appointment with the expert's team, and also the professional will schedule a date & time to give the required pre-inspection and tile-sealing Sydney service. You can get complete feasible service under the influence of experts and specialist technicians. The experts will do the best tile sealing and cleaning service with the best techniques and methods at an affordable budget. We are desperately waiting for your call. You can call us anytime from anywhere in Sydney, and we will be assisting you and booking the service inside the city and in the nearby suburbs also.
We Also Provide Services in The Below Suburbs:
Tims Tile Cleaning Sydney is a Tile Cleaning services provider company.
Reviews
Looks Good The Tiles Smell Super Fresh & Clean Now
★★★★★
"
Tile cleaners did a great job! A++ work and value he cleaned roughly 2,000 sq feet of tiled floor, everything looks brand new! He got out marker stains made by the kids and puppy stains, not only looks good the tiles smell super fresh & clean now. Appreciate the work this Tile and grout Cleaning Sydney team did today and has become our go-to company for future work.
"
"
The experts from this tile and grout cleaning Sydney company I hired did an amazing job in cleaning my tiles and getting rid of all the stains that were on them. No more bad smells. I will be telling everyone I know about this service. Highly recommended!
"
My Floor Looks New, Especially The Grout
★★★★★
"
The professional did a great job! He explained the process for my tile and grout cleaning. My floor looks new, especially the grout. The cleaner was friendly and communicated well with my family and me. Also answered all of my questions about what procedure he will follow and how long it would take. I would definitely recommend this tile and grout cleaning Sydney service!
"
Amazing Service With Exceptional Professionalism
★★★★★
"
The expert from this tile and grout cleaning Sydney team was outstanding! He provided amazing service with exceptional professionalism. Also elaborated on the actual problem with our grout and tile. The cleaner arrived on time and finished the job within the time the company promised. I will call them again in the future and highly recommend this service!
"
The Team Was Excellent To Work With
★★★★★
"
This tile and grout cleaning Sydney team were excellent to work with. They explained everything they were going to do and pricing before they started. Our flooring looks great now! Also provided beneficial instructions on how to better care for my floors and what cleaners to use moving forward. Would use it again and recommend it to others.
"

Tims Tile Cleaning Sydney
Location: 157 King St, Sydney, NSW 2000 Australia