Save Your Tiles and Grouts With the Best & Effective Regrouting Solutions In Sydney!
Over time, the wear and tear on your flooring can cause your tiles and grout to lose their original vibrancy. As a result, both the walls and floors of your beautiful home may appear dull and lackluster, diminishing their overall appeal. Fortunately, there is a solution that can restore the former glory of your tiles and grout. Welcome to Tims Tile Cleaning Sydney, the ultimate destination for top-notch regrouting services. Our team of highly skilled and experienced tile regrouting specialists are dedicated to reviving your outdated, grimy walls and floors. Trust us to employ the most advanced techniques and methods, ensuring impeccable results that will leave you amazed.
The team members are going to transform the tiles completely and remove their grubbiness. The professionals are going to professionally regrout tiles of your Kitchen, bathroom, showers, splashbacks, and others as well. We guarantee to use premium quality service offering, which is going to bring the best possible value to the client's investment. If you need tile regrouting Sydney Service, it's the best platform to connect for feasible solutions to all your tiles-related problems. Call us and book your appointment today at 02 8319 1071.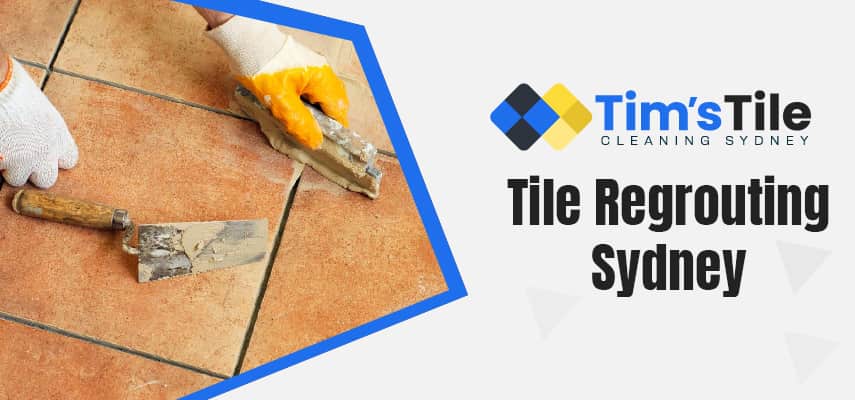 Explain Things About Tile Regrouting?
Tile regrouting is the process, which helps to improve the appearance of tile walls and floors. This is going to cost less than replacement tiles cost. This is going to turn the faded, discoloured, and ugly tiles into shinier ones.
In the process, the experts will come to your property and inspect tile regrouting. They will first remove grout from all around the tiles with specially designed advanced mechanical tools. After this, the professionals will prepare for the regrouting solutions and then vacuum the entire area. Once the ground is cleaned, afterwards grout is reapplied with the help of an anti-mould additive. Anti-mould Additives are used in different types, which depend on every tile category to control mould, bacteria, and fungi.
Tile Regrouting is helpful to protect the grout for lifespan. Advised by professional tile cleaners do regrout and apply sealants after regrouting, which helps to protect the walls and floors and keep it long-lasting.
There are different areas, where regrouting is possible to get done like:
Floors
Bathrooms
Kitchen Splashbacks
Shower
Balconies / Patios
Fireplaces
The best and excellent way to do regrouting is to avail Tile Regrouting Sydney service team.
The Benefits You Can Take From Our Service
Regrouting is not an easy process, as it's a complete renovating process to follow and make your floors and walls look like new once again. You can avail several advantages from regrouting, such as:
Price Your invested money will not be wasted if you will receive the best outcome from the same. In this case, you should opt for the professional tile regrouting service within a budget-friendly amount. In this process, the old tiles will be removed, the fitting of new tiles, and removing the grouts from within and regrouting once again.
Convenience It is a very easy and simple process for professionals, which involves retiling and renovating the entire floor once again.
Environment and Health When the grouts will get removed from the floor, this will create a breeding ground for the microbes which affects the health and environment as well. You can prevent all these health problems through the tile regrouting Sydney service.
Time-Saving If you will take expert assistance from professionals, this is going to save lots of time for renovation and retiling.
Presentation Of Presale or Pre-Lease at the Moment With the simple process of professional tile regrouting, you can improve the overall presentation of the entire home and then make it a perfect spot for presale and pre-lease.
It is better if you could call for professional help from experienced and expert Tile Regrouting Sydney service and get your walls and floors good looking again. We are available 24*7 to sort out all the problems related to tiles and grouts in the city and nearby suburbs also.
We Also Provide Services in The Below Suburbs:
Reviews
Looks Good The Tiles Smell Super Fresh & Clean Now
★★★★★
"
Tile cleaners did a great job! A++ work and value he cleaned roughly 2,000 sq feet of tiled floor, everything looks brand new! He got out marker stains made by the kids and puppy stains, not only looks good the tiles smell super fresh & clean now. Appreciate the work this Tile and grout Cleaning Sydney team did today and has become our go-to company for future work.
"
"
The experts from this tile and grout cleaning Sydney company I hired did an amazing job in cleaning my tiles and getting rid of all the stains that were on them. No more bad smells. I will be telling everyone I know about this service. Highly recommended!
"
My Floor Looks New, Especially The Grout
★★★★★
"
The professional did a great job! He explained the process for my tile and grout cleaning. My floor looks new, especially the grout. The cleaner was friendly and communicated well with my family and me. Also answered all of my questions about what procedure he will follow and how long it would take. I would definitely recommend this tile and grout cleaning Sydney service!
"
Amazing Service With Exceptional Professionalism
★★★★★
"
The expert from this tile and grout cleaning Sydney team was outstanding! He provided amazing service with exceptional professionalism. Also elaborated on the actual problem with our grout and tile. The cleaner arrived on time and finished the job within the time the company promised. I will call them again in the future and highly recommend this service!
"
The Team Was Excellent To Work With
★★★★★
"
This tile and grout cleaning Sydney team were excellent to work with. They explained everything they were going to do and pricing before they started. Our flooring looks great now! Also provided beneficial instructions on how to better care for my floors and what cleaners to use moving forward. Would use it again and recommend it to others.
"

Tims Tile Cleaning Sydney
Location: 157 King St, Sydney, NSW 2000 Australia