Natural Stone Restoration Sydney
If you are looking for a reliable team to get natural stone cleaning services, you can rely on us. Tims Tile Cleaning Sydney offers the best quality services that keep your natural stone looking beautiful and astonishing. Natural stones are quite long-lasting if you maintain them well. For this, you can get natural stone restoration Sydney services. Regular cleaning along with occasional professional services can help you keep the natural stones intact. Paying proper attention to the natural stone is very important because only then will you be able to preserve its resilience.
Sealing also plays a major role in keeping the natural stone last longer. Because it can prevent the entry of dirt particles and debris that might get locked in them. As they are porous, there are high chances for dirt, debris, dust, and residue to accumulate. Hence regular cleaning can now become an essential thing. Therefore, opting for our natural stone restoration Sydney services is quite necessary.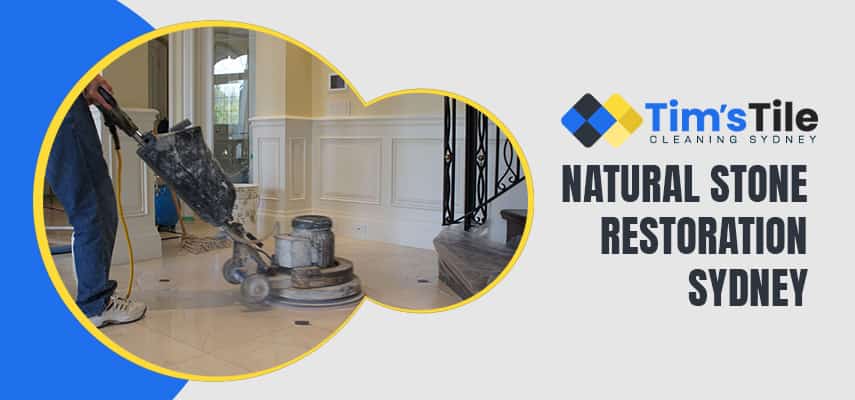 What Is Natural Stone?
Since they are obtained naturally without involving humans, they are termed "Natural stones". Natural stone is something that is known for its resilience, longevity and sophistication. Because of all these features, natural stone is high in demand and is often used for constructing various assortments of your house. Be it your kitchen countertops or the floor surfaces, they can be designed in such a way that they are a perfect fit for your property.
Natural stones are also known for their style, variety, price, feature, etc. All these together help you in curating your place with the type of natural stone that you would want. Building a property can be expensive, but the investment should be able to last longer. Hence choosing the right type of natural stone is going to add value to your property as well as it is going to be cost-effective. Abrasion resistance is one of the most considered qualities that aid in durability. If you are someone wanting to opt for the best and a beautiful solution for choosing a type of stone, going for natural stones is ideal. Natural Stones include a wide variety of types. The following are a few types of natural stones:
Limestone
Granite
Marble
Quartz
Dolomite
Slate, etc
Can You Do DIY Natural Stone Cleaning?
Professionals are the best choice when it comes to cleaning natural stone. Since they are skilled enough and are aware of all the cleaning methods, it is important to get the services from them. It is essential to clean the natural stone regularly using the right cleaning methods. But at certain times, you can even clean them on your own. By following certain precautions and taking care, you can simply achieve the best results. Here are a few:
Regular sweeping can aid in preventing the accumulation of dirt and debris. Thus cleaning becomes easier.
With the help of non-abrasive wipes and moping, keeping the surfaces clean gets easier. Because they can aid in effective cleaning.
Using cleaning agents that are suitable for maintaining the natural stone well is necessary.
Restricting the usage of acidic cleaning agents is detrimental and can cause irreversible damage. Therefore, it is ideal to prevent the usage of such harsh cleaning agents.
When Should You Contact The Experts?
In case the DIY method doesn't work, you need to hire experts. Because only experts can bring back the shine and help you in restoring the look of your natural stones. Our natural stone restoration Sydney experts are well-versed and skilful. Therefore, you can rely on our services for the best results.
Our services not only involve cleaning but also aids in the removal of stairs and sealing. All these Tile cleaning services will enhance the overall look of the floor and in restoring its beauty. To get the desired outcome, you should hire our proficient team. For the right reasons, our team is the top-rated one in Sydney. Therefore, get our natural stone restoration Sydney services if you are ever in need of them.
Using the latest cleaning methods which are industry-leading, it gets easier for us to make your natural stone surfaces look aesthetic. At affordable prices, we will be able to offer our natural stone restoration Sydney services.
To make your appointment right away, contact us at (02 8319 1071). You can also get all your queries clarified by contacting us. Since our team is available 24/7, it is easier to get in touch with the team.
Reviews
Looks Good The Tiles Smell Super Fresh & Clean Now
★★★★★
"
Tile cleaners did a great job! A++ work and value he cleaned roughly 2,000 sq feet of tiled floor, everything looks brand new! He got out marker stains made by the kids and puppy stains, not only looks good the tiles smell super fresh & clean now. Appreciate the work this Tile and grout Cleaning Sydney team did today and has become our go-to company for future work.
"
"
The experts from this tile and grout cleaning Sydney company I hired did an amazing job in cleaning my tiles and getting rid of all the stains that were on them. No more bad smells. I will be telling everyone I know about this service. Highly recommended!
"
My Floor Looks New, Especially The Grout
★★★★★
"
The professional did a great job! He explained the process for my tile and grout cleaning. My floor looks new, especially the grout. The cleaner was friendly and communicated well with my family and me. Also answered all of my questions about what procedure he will follow and how long it would take. I would definitely recommend this tile and grout cleaning Sydney service!
"
Amazing Service With Exceptional Professionalism
★★★★★
"
The expert from this tile and grout cleaning Sydney team was outstanding! He provided amazing service with exceptional professionalism. Also elaborated on the actual problem with our grout and tile. The cleaner arrived on time and finished the job within the time the company promised. I will call them again in the future and highly recommend this service!
"
The Team Was Excellent To Work With
★★★★★
"
This tile and grout cleaning Sydney team were excellent to work with. They explained everything they were going to do and pricing before they started. Our flooring looks great now! Also provided beneficial instructions on how to better care for my floors and what cleaners to use moving forward. Would use it again and recommend it to others.
"

Tims Tile Cleaning Sydney
Location: 157 King St, Sydney, NSW 2000 Australia