How To Clean Floor Grout Without Scrubbing? Follow These 7 Professional Tips?
Many areas of your house are vulnerable to dust and debris, hence it is necessary to know how to clean them thoroughly. These are the certain areas that need extra care and especially the floor grout should be cleaned using specific cleaning methods. This will help you in keeping the grout lines clean for longer. Using inappropriate cleaning agents or unnecessary scrubbing can be deteriorating. Because they can cause irreversible damage to your flooring. Therefore, by following the Tile and grout cleaning methods mentioned in this guide, you will know how to clean floor grout without scrubbing. In addition to this, there are certain factors that you need to know prior to carrying out the cleaning process.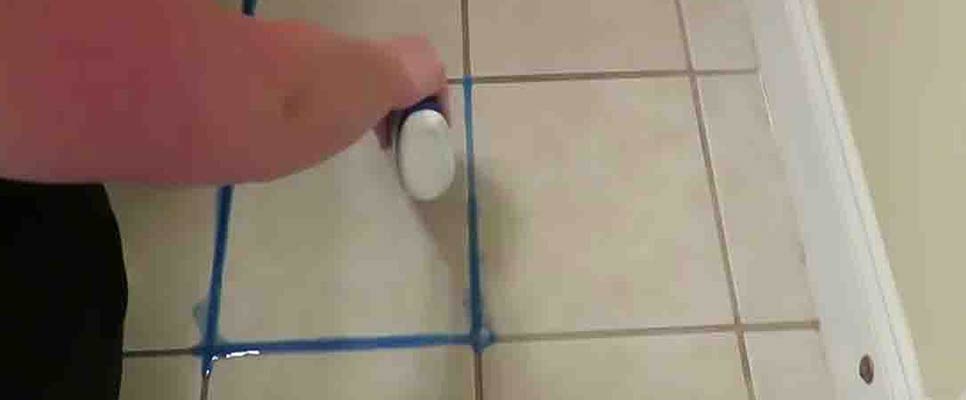 So, follow the professional tips from this guide that will help you in avoiding the damages that may occur if proper care is not taken.
Professional Tips That You Need To Follow While Cleaning Your Floor Grout
In order to attain the best results, it is necessary for you to follow certain rules and norms. Only then you will be able to reach your expectations of having clean grout lines. So long as knowing how to clean floor grout without scrubbing, you should also know the professional tips that experts have been following all this long. Since they are specially trained and experienced enough, they know very well about the best strategies and tips. By following these, you will be able to get desired results without causing any sort of damage to your flooring. The following are the 7 professional tips that you need to follow
No Vigorous Scrubbing
A lot of people prefer the lovely, enduring, and permanent impression that grouting between tiles creates. However, cleaning grout that has become mouldy, grimy, or discoloured is extremely difficult. The answer to the question concerning how to maintain floor grouting with no scrubbing is that there is no way to totally do away with cleaning.
But there are many ways to simplify it! Many of us are accustomed to getting used to cleaning the grout until it sparkles and looks brand-new. You wouldn't believe it, but this isn't the only option or perhaps the best method for thoroughly cleaning grout!
Use Proper Grout Cleaner
You can get your grout largely bright and clean by using the proper cleanser and letting the product itself do the bulk of the job. Certain cleaning agents will enable you to accomplish this with the least amount of work even if it is impossible to completely clean grout without any scrubbing. So, professionals often advise choosing the right cleaning products for the best results.
Regular Cleaning For Best Results
Whether you believe in the idea or not, regular cleaning can often give you the best results without having to scrub the grout lines. This will merely help you in decreasing the work of cleaning all the dirt at once. If you don't clean the tiles and grout lines on a regular basis, they will build up mould, mildew and also dirt stains. This can make it difficult for you to clean them and make them look good. Whereas cleaning them on a regular basis will make the cleaning process easier for you. Hence, consider cleaning your grout lines without skipping.
Use Certain Kitchen Ingredients To Get Amazing Results
You can definitely get surprised by this! But yes, it is true. There are several ingredients from your kitchen that can make your flooring sparkle including the grout lines without scrubbing. For this, the ingredients that can be used are vinegar, baking soda, lemon, etc. These ingredients in combination with others like rubbing alcohol, bleach, and sodium percarbonate can give effective results. In addition to this, you can mix them with multiple other things to maximise the results.
Steam Cleaning
If you are struggling to tackle the dirt accumulated on the grout lines, then you are on the right path if you opt for steam cleaning. This makes use of the hot water extraction method where hot steam or vapour is used to clean the grout lines. All you need to do is maintain a 200°F temperature and make sure that the floor is properly exposed to steam. Steam cleaning is also best when it comes to eliminating mould and mildew that is tough to deal with, whereas it is pretty difficult if you opt for regular cleaning. So, choosing steam cleaning can be beneficial to you in more than one way.
Using Proper Grout Sealants And Colourants
Nobody can realise the importance of grout sealants and colourants can make. When it comes to grout cleaning, most of the time the dirt and other particles often seep in. This can make the condition worse. Because it can not only make them look ugly but also promotes the growth of bacteria and other microbes. This further leads to mould growth. So to avoid all these you need to use proper grout sealants for best results. Along with this, colourants can also be helpful if you have discoloured grout lines.
Seeking Experts' Help
In case you are looking for the best advice and are unable to find the perfect solution to your concern. It's better to opt for services. Since professionals are well equipped and perfectly skilful, you can attain the best results. So, without trying unnecessary things like vigorous scrubbing or the usage of harsh chemicals on your own, you better contact experts for help in case you need any.
Conclusion
The cleaning methods and the strategies that are effective for cleaning grout lines can be different in different scenarios. But scrubbing should never be an option. Following the above-mentioned strategies and knowing how to clean floor grout without scrubbing can help you protect your grout for longer durations. In case you need professional advice, forget not to reach out to them.