For Best Stone Tiled Surfaces Cleaning, Contact Us!
Our stone tile cleaning Sydney team offers the best services to our clients who want to keep their stone flooring clean. Tims Tile Cleaning Sydney is the top-rated company that maintains high standards in performing the job. Our team consists of experts who are fully equipped and proficient in restoring your stone tiles' look. The services include honing, polishing, and also sealing the stone and marble. All these require highly efficient equipment that can do the job perfectly.
In case you are looking for the best resources, you can opt for our services which are going to be exceptionally good. Our stone care experts are highly aware of all the best ways that can keep your stoned surfaces neat. The cleaning agents that we use are extremely gentle, yet they are super effective in making the floor clean. All the detergents and cleaning agents that we use are pH controlled. Hence they can cause no harm or damage to your surfaces.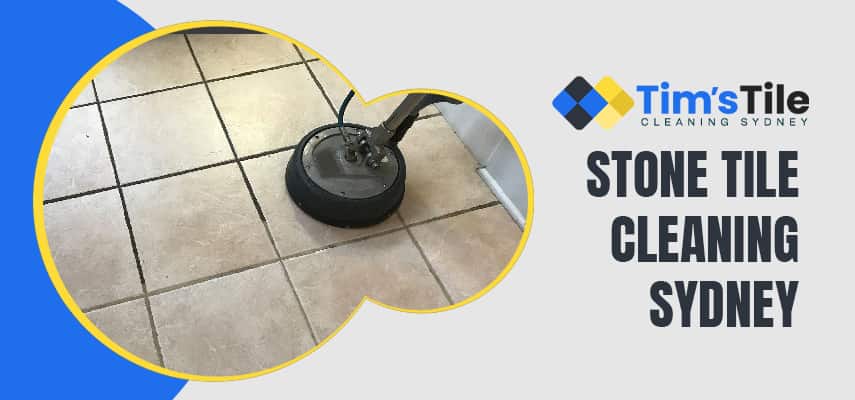 Services We Offer!
In order to make your surfaces clean, we have our team working extremely hard. Therefore, you get to enjoy our stone tile cleaning Sydney services across various regions of Sydney. The services that we can offer:
Stone, Marble And Tile Surfaces
We extend our services to many other natural surfaces like marble, granite, sandstone, etc. Along with these we also clean porcelain and ceramic tiles. Using eco-friendly cleaning methods and good power cleaning technology, we will attain the results that you want.
With the usage of diamond-studded honing pads, we will be able to polish and hone the surfaces to clean them efficiently. As this doesn't require the brush to grind the stone off, there will be less slurry or wastage. This method is contrary to the traditional cleaning methods, thus this gives the best results.
These services are suitable even for stones with rough surfaces. Because we can rapidly scrub the surfaces such as flamed, saw-cut or sand-blasted surfaces. Using the right tools, and attaining great results has now become affordable. It's because all the services that we offer are available at decent prices. The level of satisfaction and cleanliness that you witness with our services is going to be top-notch.
Once the cleaning is done, we finish it off with the best stone sealing products. This plays a vital role in keeping your stone tiles intact and also maintains them to look good in the long run.
Residential Pressure Washing
Our stone tile cleaning Sydney team is here to offer a wide variety of Tile cleaning services that includes residential pressure cleaning services as well along with commercial ones. With the help of our services, many homeowners benefited. And if you would also want to enjoy the perks of our services, it is important for you to contact us right away.
The services include a wide range! It ranges from stain removal, garage floor cleaning, mould or algae removal, courtyards and entrance cleaning etc. All these services are performed under the supervision of experts. Along with this, we even follow standardized protocol which includes power washing, which involves highly sophisticated workmanship. Be it for the soft wash of your external walls or the windows, or restoring the look of your retaining walls, you can hire us.
To get our stone tile cleaning Sydney services, all you need to do is contact us at our company number. This helps in getting easy access to our services. Make an appointment in advance to get our services without any delay. In addition to this, you can even call us to know more about the services or to get a price quotation.
Commercial Pressure Washing And Tile Cleaning
To meet our clients' needs it is important to offer a wide variety of services. Thus, as a result, our stone tile cleaning Sydney team offers commercial pressure cleaning as well. Our services include re-sealing, re-surfacing, detailing and maintaining the stone-tiled floors and surfaces. As per your requirement, we offer monthly services, bi-annual or even annual services. You can schedule the services as per your need. For any particular needs, feel free to contact us and our team will be ready to assist you.
Attain Great Satisfaction
With proper professional indemnity, we as a team offer great services to our clients. This makes our company one of the best companies in Sydney. If you ever need stone tile cleaning Sydney services, you should surely rely on our services. As our company is highly approachable people often choose our services and attain the results that they want. Hence we are responsible for giving you the great satisfaction that you desire.
Call Us For A Free Quote And Inspection
If you have any queries regarding our services, just make a call at (02 8319 1071). As our customer care team is available 24/7, it becomes easy for you to make a call. And this also aids in a hassle-free booking system. Along with the appointments, you can even get free quotes over a phone call. We take great pride in taking the opportunity to serve you with the best services. For any kind of stone tile cleaning Sydney services, contact us right away!
We Also Provide Services in The Below Suburbs:
Reviews
Looks Good The Tiles Smell Super Fresh & Clean Now
★★★★★
"
Tile cleaners did a great job! A++ work and value he cleaned roughly 2,000 sq feet of tiled floor, everything looks brand new! He got out marker stains made by the kids and puppy stains, not only looks good the tiles smell super fresh & clean now. Appreciate the work this Tile and grout Cleaning Sydney team did today and has become our go-to company for future work.
"
"
The experts from this tile and grout cleaning Sydney company I hired did an amazing job in cleaning my tiles and getting rid of all the stains that were on them. No more bad smells. I will be telling everyone I know about this service. Highly recommended!
"
My Floor Looks New, Especially The Grout
★★★★★
"
The professional did a great job! He explained the process for my tile and grout cleaning. My floor looks new, especially the grout. The cleaner was friendly and communicated well with my family and me. Also answered all of my questions about what procedure he will follow and how long it would take. I would definitely recommend this tile and grout cleaning Sydney service!
"
Amazing Service With Exceptional Professionalism
★★★★★
"
The expert from this tile and grout cleaning Sydney team was outstanding! He provided amazing service with exceptional professionalism. Also elaborated on the actual problem with our grout and tile. The cleaner arrived on time and finished the job within the time the company promised. I will call them again in the future and highly recommend this service!
"
The Team Was Excellent To Work With
★★★★★
"
This tile and grout cleaning Sydney team were excellent to work with. They explained everything they were going to do and pricing before they started. Our flooring looks great now! Also provided beneficial instructions on how to better care for my floors and what cleaners to use moving forward. Would use it again and recommend it to others.
"

Tims Tile Cleaning Sydney
Location: 157 King St, Sydney, NSW 2000 Australia