Professional Pool Paver Cleaning in Sydney at an Affordable Price
Tims Tile Cleaning is a licensed company with certified and experienced technicians who are committed to rejuvenating your pool pavers through thorough cleaning and sealing. Whether you need advice on cleaning pool pavers in Sydney or seek professional assistance in preparing your deck for cleaning and sealing, our skilled team is always ready to help. With their expertise and fully equipped tools, they are just a phone call away!
With industry-grade tools and superior-quality sealing materials, our experts assist in sealing your pool pavers, bringing back their sheen appearance, whether or not they've been sealed anytime in the past.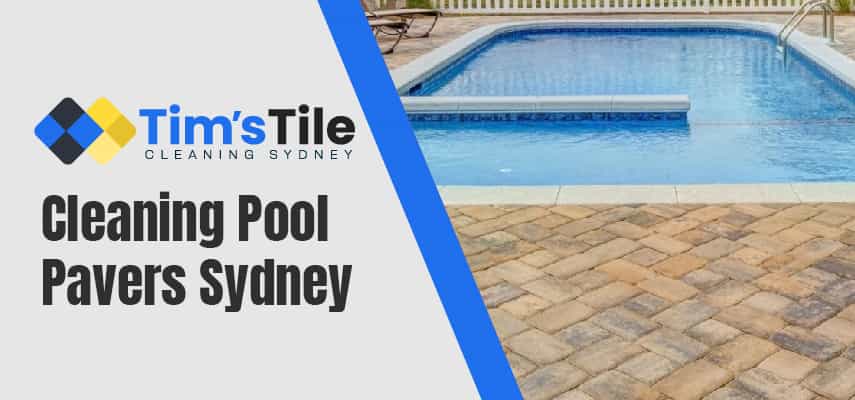 Can Swimming Pool Pavers Differ From Each Other?
Not all swimming pool pavers are similar, each has some differences from another, which occurs due to the materials used in crafting them. Some pavers are made sturdy and can withstand rain, UV rays, and other exterior elements whereas others are crafted with common materials, like travertine, limestone, bluestone, etc. As a result, the latter ones become porous and thus need sealing. In fact, even the sturdy ones need some sort of protection from your end, or else they can go through cracking, staining, etc., with long-term use. By protecting your pool pavers, you can guard them against all external threats, increasing their lifespan.
Our Flawless Services
Tims Tile Cleaning Sydney is your one-stop solution for all kinds of sealing or cleaning pool pavers Sydney requirements. Employing the latest cleaning technologies and equipment, our certified and professionally-trained technicians clean and seal your swimming pool pavers effectively, ensuring long-term outcomes. The services that we offer are Tile Sealing, Stone Sealing, Grout Sealing, and other tile and grout cleaning services given below.
Cleaning pool pavers in Sydney
Generally, non-acidic cleansing solvents should be applied to clean the swimming pool pavers. However, you must opt for professionals to clean pool pavers in Sydney once a year to keep the pavers in their best-looking condition and extend their lifespan. Relying on the types and materials of the pool pavers and whether they have been sealed or not, professionals chalk out different customised cleaning and maintenance methods for optimum results. Pool pavers crafted with natural stone must be sealed with infiltrating water-based sealing solutions and professionals do the same.
Pool Pavers Sealing
Due to the excessive exposure to harmful UV rays, scorching heat, rain, and the chlorine or salt water of the swimming pool that splashes out, the pavers go through wear and tear, losing their firmness. To be honest, most of the tiles are porous in nature and need sealing, especially the outdoor pavers made with travertine, bluestone, and also concrete.
The Importance Of Choosing A Custom-Fit Sealer
Determining the right sealer as per the paver is crucial, otherwise, you cannot expect to get the perfect outcome. A wrong sealer tends to wear off in just a few months of application. Also, if you're willing to use a solvent-based sealer, grinding the surface is a must.
Well, instead of choosing any random sealer on your own it's always a great idea to opt for a professional as he can recommend you the best-fit sealer according to the tile type.
A Brief Idea About Sealers
A sealer is liquid in nature and contains resins. It is applied to seal the porous pavers around the swimming pool. Sealing the porous surface protects the pavers from catching water or oil-based stains and also makes cleaning pool pavers easy and convenient.
If you pour a few drops of water on the paver, you can see the water getting absorbed by the paver leaving water stains. However, if you choose to seal your tiles or grouts after cleaning them, it works as a protective layer and prevents staining.
Type Of Sealers You Can Use On Outdoor Pavers
The market is filled with different kinds of sealants, which can make it pretty difficult for you to opt for the right one that would fit your pavers precisely. So how to find the suitable one and in what manner do the sealers differ from each other?
Usually, water and solvent-based sealants are used for outdoor tiles. The best thing you can do is use a deep-penetrating UV-resistant & slip-resistant water-based sealant that will make your pavers look polished without making them slippery. The finest part of water-based sealer is that: it doesn't create any harmful fumes while applying or removing it. Moreover, water-based sealants are much easier to apply and take less time to dry out.
However, choosing the right type of water sealant is crucial when applying on outdoor pavers. It is because most water-based sealants are designed to be used indoors, thus they don't last long when used on outdoor pavers.
Furthermore, you must always make sure that your pavement tiles are perfectly cleaned before you conduct the job of sealing. So obtaining professional cleaning pool pavers is a must! It, in turn, will work on protecting your tile's appearance, and also makes sure that there's no dirt or debris trapped underneath the sealant.
Penetrating Sealers
The good-quality penetrating sealers infiltrate deep into the porous surface, protecting your pavers from the inside. Once the sealer is applied, it adds an organic or synthetic resin material into the surface pores. After that, the water or solvent-based sealants start to evaporate, leaving the resin within the surface, and forming an invisible barrier, averting the surface from catching unwanted contaminants, including dirt, debris, and stain. On top of that, penetrating sealers let the pavement surface breathe, this will never scratch or get peeled out.
Deepshield breath is a high-quality water-based sealant that is UV-resistant, stain-resistant, and anti-skid providing long-term benefits. The deep shield sealants secure the pool pavers from any kind of water or oil-soluble stains, producing a breathable and invisible protective barrier. Besides, this special kind of sealant even makes it easier for you to clean and maintain your pavers. Once the sealant penetrates deep into the tile and grout pores, it will enhance the natural appearance of the pool paver.
Anti-skid Treatment
Besides providing flawless cleaning pool pavers Sydney services Tims Tile Cleaning Sydney equips you with reliable anti-skid solutions too! Some pavers become slippery when they are wet while others go through wear and tear and become slippery in the long run. There's nothing to worry about as our expert technicians employ an anti-skid treatment and increase your safety by making your pavers skid-proof even when wet. In fact, our anti-skid treatment is excellent and takes no time to dry out!
Apart from regular tiles, our anti-slip treatment is also suitable for porcelain, ceramic, marble, Terrazzo, and all other stone pavers. We offer you an obligation-free upfront quote and a free demonstration as well. With a team of courteous and highly experienced technicians, we pledge to offer you an impeccable, sealing, and anti-slip treatment followed by cleaning pool pavers Sydney service at a pocket-friendly price.
In case you're willing to make your outdoor flooring or pavers polished, porous-free, and slip-proof, ring us up now to get our reliable and affordable solutions.
Paver Tiles Stripping
The sealer requires scrapping out the old sealant and reapplying it. However, this scrapping and reapplying process totally depends on the sealant type, methods of applying, and the amount of foot traffic. The process is chiefly known as stripping and sealing. The pavement is needed to be stripped and sealed every two to 10 years, depending on the foot traffic.
Do Swimming Pool Pavers Need Sealant?
Outdoor swimming pool paver tiles could be sturdy but as they are exposed to snow, rain, wind, and other exterior elements including salt and pool chemicals, they tend to wear out soon. That is why protecting them with the right type of sealant is essential. With time and use, outdoor tiles especially the pavers around the swimming pool. With time and use, the tiles of pool pavers get cracking, staining, and so on! However, you can keep the pavers away from all these issues by sealing them! The application of the appropriate sealants protects it from external damage, increasing its lifespan! But make sure to seek professional assistance in choosing the best-fit sealant and applying it correctly for the best outcome and long-term results.
It is however important to know which type of water-based sealer to use on your outdoor natural stone pavers, as many water-based sealers will not last long outside as they are designed for internal use, so it is important to use a water-based sealer that is specifically made for outside use. And cleaning pool pavers is a top priority to make sure that the sealant material sits on the porous surface properly.
We Also Provide Services in The Below Suburbs:
Reviews
Looks Good The Tiles Smell Super Fresh & Clean Now
★★★★★
"
Tile cleaners did a great job! A++ work and value he cleaned roughly 2,000 sq feet of tiled floor, everything looks brand new! He got out marker stains made by the kids and puppy stains, not only looks good the tiles smell super fresh & clean now. Appreciate the work this Tile and grout Cleaning Sydney team did today and has become our go-to company for future work.
"
"
The experts from this tile and grout cleaning Sydney company I hired did an amazing job in cleaning my tiles and getting rid of all the stains that were on them. No more bad smells. I will be telling everyone I know about this service. Highly recommended!
"
My Floor Looks New, Especially The Grout
★★★★★
"
The professional did a great job! He explained the process for my tile and grout cleaning. My floor looks new, especially the grout. The cleaner was friendly and communicated well with my family and me. Also answered all of my questions about what procedure he will follow and how long it would take. I would definitely recommend this tile and grout cleaning Sydney service!
"
Amazing Service With Exceptional Professionalism
★★★★★
"
The expert from this tile and grout cleaning Sydney team was outstanding! He provided amazing service with exceptional professionalism. Also elaborated on the actual problem with our grout and tile. The cleaner arrived on time and finished the job within the time the company promised. I will call them again in the future and highly recommend this service!
"
The Team Was Excellent To Work With
★★★★★
"
This tile and grout cleaning Sydney team were excellent to work with. They explained everything they were going to do and pricing before they started. Our flooring looks great now! Also provided beneficial instructions on how to better care for my floors and what cleaners to use moving forward. Would use it again and recommend it to others.
"

Tims Tile Cleaning Sydney
Location: 157 King St, Sydney, NSW 2000 Australia